The President of Myanmar, President Thein Sein visits the island of Bantayan to help the victims of super typhoon Yolanda. President Thein Sien is currently in the Philippines for an official visit with the Philippine President.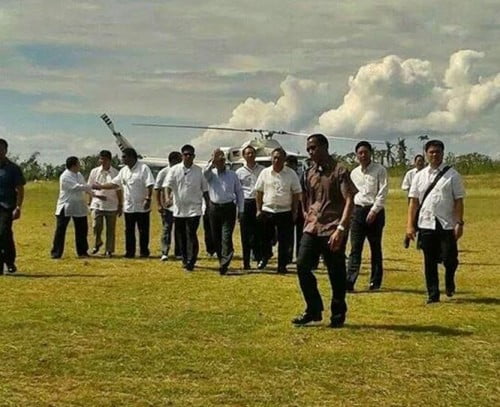 Myanmar President in Bantayan Island (Photo: Attracttour.com)
The Burmese political leader and former military commander arrived at the Mactan Cebu International Airport Authority (MCIAA) on Friday morning. He was accompanied by Department of Agriculture Secretary Proceso Alcala.
President Thein Sein was welcomed by Cebu Governor Hilario Davide III, Vice Gov. Agnes Magpale, Lapu-Lapu City Mayor Paz Radaza, Rep. Aileen Radaza, MCIA general manager Nigel Paul Villarete, Major Gen. Romeo Poquiz of the 2nd Air Division of the Philippine Air Force and Police Regional Office-7 Director Danilo Constantino.
The government officials and members of the Armed Forces who welcomed the President also accompanied him on his visit to Bantayan Island together with the much-needed help for the victims of the super typhoon.
According to some medias in Cebu, a total of 2 tons of relief goods, medicine and medical equipment worth at around 14 million Kyats (P624,000) were given by the government of Myanmar to the typhoon victims in Northern Cebu.
The medical equipment donated by Myanmar are composed of five sphygmomanometer, 10 stethoscope, one set of minor surgical set, two ECG machines and two glucometer with strips. Aside from the equipment, there are 143 types of medicines to be given to the victims together with injectibles, antibiotics, liquids, powder, ordinance and dressing tablets.
The President of Myanmar arrived at Sta. Fe Airport in Bantayan Island at around 10:00 AM on Friday morning, December 6, 2013. Before the team landed at the airport in Bantayan, the President and the Governor's Team conducted about 30-minutes aerial inspection in the entire island of Bantayn covering three municipalities; Bantayan, Sta. Fe and Madridejos.
President Thein Sein attended a briefing by the three mayors of Bantayan Island, Bantayan Mayor Christopher Escario, Sta. Fe Mayor Jose Esgana and Madridejos Mayor Salvador dela Fuente. The President turn-over the relief goods from the people of Myanmar to the three Local Government Units head.