Philippine Senator Miriam Defensor Santiago does the unexpected during her privilege speech on Wednesday, December 4, 2013 at the Philippine Senate as she momentarily changed the topic of her prepared speech against Senate Minority Leader Juan Ponce Enrile and made an impromptu reference to blockbuster series "The Hunger Games."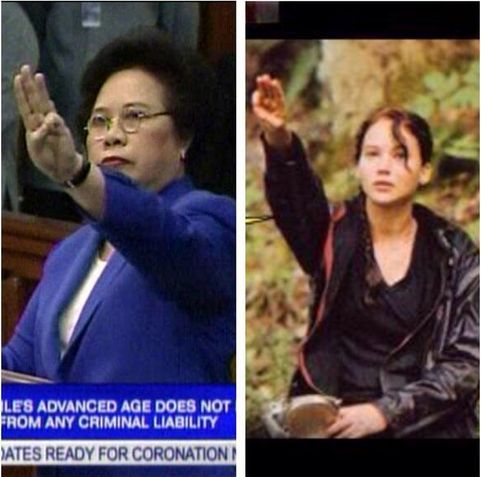 Miriam Santiago as Katniss Everdeen (Photo: @itsmerealjayson)
The 68-year-old Senator Santiago lambasted fellow Senator Juan Ponce Enrile during her entire speech but netizens who were watching live on TV and on YouTube were surprised when the brilliant lawmaker, would do a "Katniss Everdeen" move which sparks a round of fresh middle finger memes.
The movie "The Hunger Games" written by Suzanne Collins features Katniss Everdeen portrayed by Jennifer Lawrence. Senator Santiago mentioned "The Hunger Games," on her speech as she used the three middle finger symbol, a symbol used by District 12 where Katniss lives to illustrate her point.
Senator Miriam was quoted as saying, "[You are] three times sick! To use the language of Katniss Everdeen in the 'Hunger Games: Catching Fire,' ayan o (raises three middle fingers), three times sick ka!," Santiago declared while facing Enrile.
Here's How the Netizens Reacted with Sen. Santiago's Katniss Everdeen moves: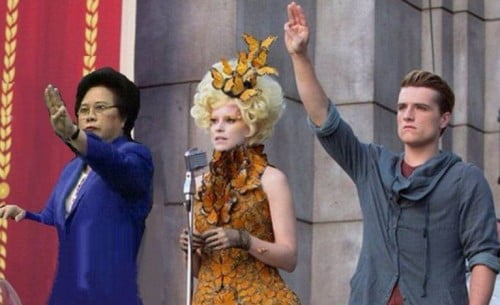 Sen. Miriam Hunger Games (Photo: http://twitpic.com/dniyha)
Miriam Santiago for District 12 (Photo: Tetay Aquino Twitter)
Sen. Santiago's Hunger Games Salute (Photo: Zhander Cayabyab)