The Philippines Bar Examination was held on four consecutive Sundays of October, from October 6, 13, 21 & 27, 2013. The list of passers and topnotchers (Top 10 Passers) of the Bar Exam will be posted here as soon as available.
Update: The Supreme Court announced through their Twitter account that the Results will be projected on screen at Supreme Court quadrangle with hard copies posted. 1174 pass bar; 22.18%. UP grad Nielson Pangan tops the Bar Exam.
Related Article: October 2013 Bar Exam Results Alphabetical List of Passers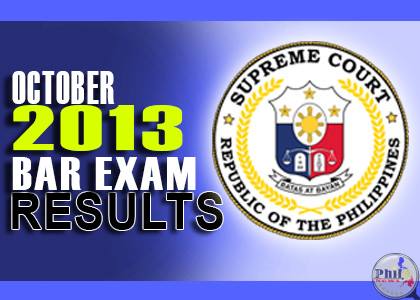 Related Article: October 2013 Bar Exam Results Release on March 18, 2014
According to the Supreme Court, the Bar Examination conducted at the University of Santo Tomas was concluded peacefully and orderly.
A total of 5,293 graduates took the tests, considered as one of the most difficult examination in the country. The Bar Exam was supervised by the Supreme Court of the Philippines.
During the examination the Local Government of the City of Manila and the Metro Manila Development Authority aided the Supreme Court in ensuring a smooth conduct of the Bar Exams in coordination with UST and the Supreme Court.
Supreme Court and UST records shows that a total of 5,303 candidates took the exam during the first Sunday of October 2013. Examinees took Political and Public International Law in the morning and Labor and Social Legislation in the afternoon.
A total of 2,688 were first-time examinees (50.69%) and 2,615 were repeaters (49.31%). During the first Sunday of exam one examinee was disqualified after an official discovered she did not surrender her cellphone to the Supreme Court Security, which was not allowed.
On the second Sunday of exam, five candidates dropped out, leaving 5,298 candidates who took the Civil Law exam in the morning and the Taxation exam in the afternoon.