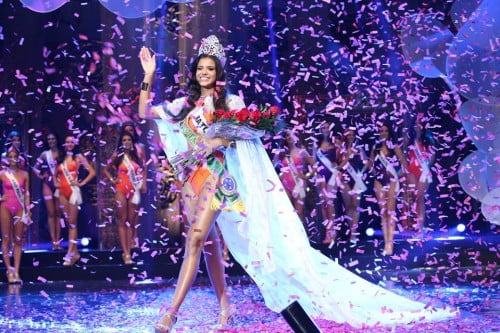 Miss Globe International 2012 from Brazil will represent her country in Miss Universe 2013.
20-year-old Jakelyne Oliveira is a professional model and a student of Agricultural and Environmental Engineering.
Standing 5'8 in height, Oliveira dreams of making a name for herself in the fashion industry and using her image to support social and environmental causes. Described as an extrovert, she is a part of a dance group that performs samba and other traditional dances at festival and celebrations around her hometown.
The fun facts about this beauty queen is that, Oliveira's greatest role model is Brigitte Bardot, former French actress and model, she also took full care of her father for one month when he was suffering from terminal illness, and her favorite beauty tip is putting ice cubes under her eyes to prevent dark circles.
As part of her hobbies Jakelyne likes reading books and playing volleyball and Oliveira considered her home the best place, because it's where she feel safe, welcomed and loved.
Jakelyne is the fourth Brazilian beauty queen to win the Miss Globe International title. She also participated Miss Brazil 2013 and bested 26 other equally beautiful ladies who was crowned by Gabriela Markus on September 28, 2013, thereby having her the fullest right to represent Brazil on November 9, 2013 in Moscow, Russia for the Miss Universe 2013 pageant.