Miss Universe Philippines 2013 Ariella "Ara" Arida, before leaving the country was interviewed by ANC host Karen Davila for the Head Start, as their conversation goes on Davila ask her if it's alright to ask controversial questions, right after that Arida said yes.
Related Article: Jakelyne Oliveira Miss Universe Denied Twitter Rants
Davila ask her in regard with her communication skills because someone tweeted Davila saying "Is Arida will represent the Philippines?, she could hardly speak English."
To respond that question, Arida admitted that there are some words that she failed to pronounce, yet she can convey the message to the people. Arida also added referring to the question and answer portion in the pageant and said  "Latinas cannot even speak a sentence in English and many candidates do have their translator, and many would suggest to have translator but Filipinos are just critical."
This words hit the Brazilian beauty who will also represent for Miss Universe and as her response for Arida's words, Jakelyn Oliveira tweeted these: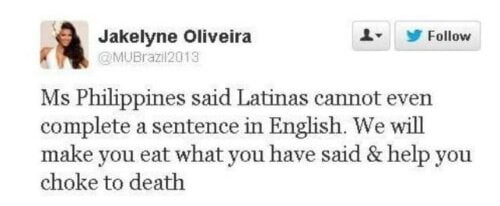 It's not yet verified if Jakelyne Oliveira who is 20 years of age really hold this official account @MUBrazil2013, and if its not the real her does she have a trusted person with access to her account? Does he/she have a full consent with Oliveira?
However the topmost tweet is certainly unbecoming of a beauty queen, let alone an individual vying for the Miss Universe crown. If she is really offended (by the interview that shouldn't have been taken out of context in the first place), then she needs to take a more pacifist approach, to talk Ariella in person and clear things up once and for all.
Who knows? She might even score points for taking the high road towards goodwill and understanding.