Jamiel Ventosa was adjudged as the winner of the Manhunt International Philippines 2013 during the finals night held at the Palacio de Maynila on October 4, 2013. The former Manhunt International Philippines winner June Macasaet awarded Jamiel Ventosa with the 2013 title.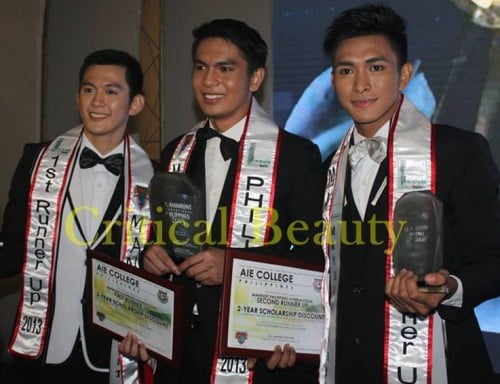 Jamiel Ventosa Center: Manhunt International Phils. 2013 (Photo Credit: Vertical Beauty)
The 18-year-old Jamiel stands at 6'2 and he hails from Sta. Rosa Laguna. He bested out a total of 19 other contestants which includes the heavy favorites Rommel Torres and Renz Maun, from Manhunt Philippines' provincial franchise in Nueva Ecija.
Jamiel Ventosa will represent the Philippines in the Manhunt International pageant set on May 2014 in Beijing, China. The Philippines' June Macasaet is the current title-holder of Manhunt International 2012 title.
Justine Hizon from Pampanga was declared as the First Runner-up of Manhunt International Philippines 2013 while Renz Maun from San Jose City was the second runner-up.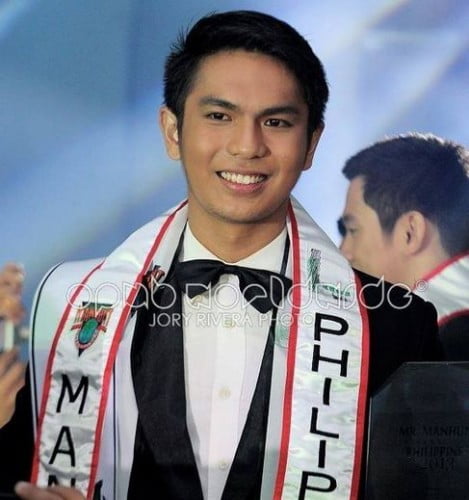 Jamiel Ventosa: Photo Credit OPMB Worldwide
Here's the List of Special Awards during the Manhunt International 2013:
Best in Fantasy Wear – Rommel Torres (Cabanatuan City)
Manhunt Personality – Leonel de Jesus (Pasig City)
People's Choice – Chester Manzano (Quezon City)
Mister Popularity – John Kenneth Guntan (Caloocan City)
Indonesia's Choice – Rommel Torres (Cabanatuan City)
Mongolia's Choice – Jamiel Ventosa (Sta. Rosa, Laguna)
Sash Factor Award – Renz Maun (San Jose City)
Unleash Flawless Award – Justine Hizon (Pampanga)
Mister Critical Beauty – Golden Altamirano (Antipolo)
Mister Sony – Justine Hizon (Pampanga)
Mister Photogenic  – Rommel Torres (Cabanatuan City)
Mister Friendship – Rommel Torres (Cabanatuan City)
Mister ABC Smile – Allen Manucot (Aliaga)
Best Dental Smile – Mark Anthony Beltran (San Antonio)
Mister Cosmo Body – Phrabat Ranjan (Laguna)
Mister Physique – Renz Maun (San Jose City)
Best in Runway – Jamiel Ventosa (Sta. Rosa, Laguna)
Best in Swimwear – Renz Maun (San Jose City) and RommelTorres (Cabanatuan City)
Best in Formal Wear – Allen Manucot (Aliaga), Jamiel Ventosa (Sta. Rosa, Laguna) and Rommel Torres (Cabanatuan City)