The Commission on Audit released the list of the Top 5 Senators who used their Pork Barrel or the Priority Development (–foul word(s) removed–)istance Fund (PDAF) from 2007 to 2009 to finance controversial NGO's. The Top five Senators were identified as Senators Ramong "Bong" Revilla Jr., Juan Ponce Enrile, Jinggoy Ejercito Estrada, Edgardo Angara and Gregorio Honasan.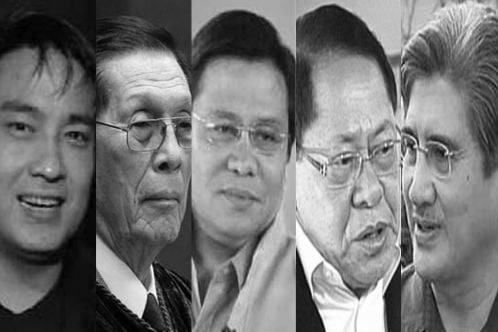 According to COA Special Audit Report under Annex A, Senator Revilla requested use of his pork barrel eight times, with a total of P503.85 million. Enrile requested use of his PDAF 14 times with a total of P469.3 million while Estrada requested use of his PDAF seven times with a total amount of P286.8 million.
Angara requested use of his PDAF six times with a total amount of P150.51 million while Honasan requested use of his PDAF three times with a total amount of P74.8 million. COA stated that the total PDAF of the five senators transferred to NGO's is P1.45 billion. The alleged NGO's are linked to the controversial Janet Napoles.
The top 5 senators are part of the list of legislators who transferred their pork barrel to 82 questionable NGO's. The COA found out the transfer of a total of P6.5 billion "nor proper and highly irregular."
Aside from the controversial PDAF expenditure of the five senators to questionable NGO's linked to Napoles, they are also involved for the release of funds to similar agencies such as the National Livelihood Corp. (NLDC), Technology Livelihood Center (TRC), and the National Agribusiness Corp. (Nabcor).
List of NGO's linked to Napoles tapped by Senators for their Pork Barrel Fund:
Agri and Economic Program for Farmers Foundation, Inc. (AEPFFI)
Agricultura Para sa Magbubukid Foundation (APMFI)
Agri and Rural Economic Development (CARED) Foundation
Masaganang Ani Para sa Magsasaka Foundation, Inc (MAMFI)
People's Organization for Progress and Development Foundation (POPDFI)
Social Development Program for Farmers Foundation, Inc. (SDPFFI)
Philippine Social Development Foundation, Inc. (PSDFI)