The DOJ (Department of Justice) released the list of vehicles being used by the Napoles family on Thursday, August 16, 2013. Justice Secretary Leila de Lima said the list of vehicles was released to help authorities arrest Janet Lim Napoles.
Napoles is the alleged brains behind the multi-billion controversy involving the Priority Development (–foul word(s) removed–)istance Fund (PDAF) of lawmakers and the P900 Million Malampaya Fund mess.
Here's the statement made by Sec. Leila de Lima:
"I would ask that this be published, i-disseminate natin 'yan as widely as possible. Although binigyan na din namin ang NLEx and SLEx, baka dumaan. But we are clarifying that we are not sure whether all of these are registered under the name of Mrs. Napoles, baka 'yung iba sa iba nakapangalan pero ginagamit din 'yan ng mga Napoles," de Lima said.
Janet Lim Napoles and her brother, Reynald Lim, are facing charges of serious illegal detention of Benhur Luy, the primary whistleblower of the alleged pork barrel and Malampaya fund controversy. The warrants for their arrest were issued by Judge Elmo Almeda of the Makati City Regional Trial Court (RTC) Branch 150 on Wednesday. No bail was recommended.
The Secretary of Justice also urged the public to be vigilant and report to authorities if they know the suspects' whereabouts. The public may get in touch with the NBI through its Operation Center hotlines 524-1141 and 09175838612.
Here's the list of the Napoles vehicles: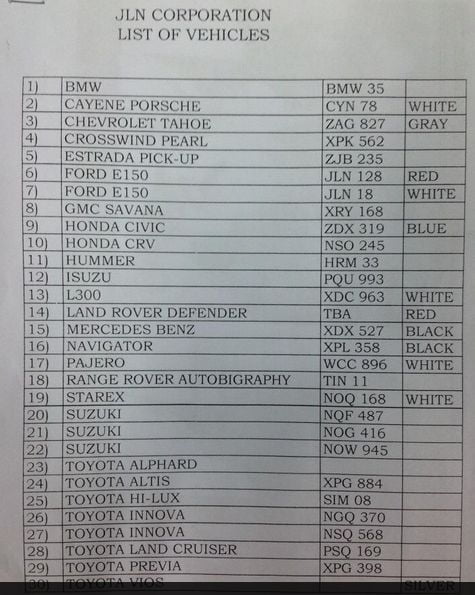 Photo Credit: Niko Baua Twitter