Richard Gordon is one of the senatorial candidate in the May 2013 mid-term election, he is the current chairman of the Philippine National Red Cross and a broadcaster for News5.
Richard or more popularly known as Dick Gordon was the former Mayor of Olongapo City during the 1980's. During his term as Mayor, the city became a highly urbanized city and was converted from a "sin city" into a "model city."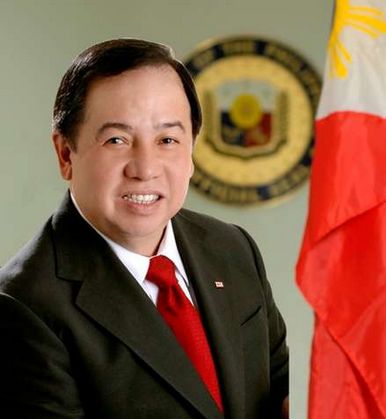 The 67-year-old Richard Gordon became the chairman of the world-renowned Subic Bay Metropolitan Authority during the administration of Pres. Fidel Ramos, and as secretary of Tourism under the administration of President Gloria Macapagal-Arroyo.
Dick Gordon was also elected as Senator during the 2004 election under the senatorial ticket of Pres. Arroyo and in 2010 he run for the presidential election as the standard-bearer of Bagumbayan – Volunteers for a New Philippines but was unsuccessful.
Some of the most prominent laws authored by Dick Gordon were the National Tourism Policy Act of 2009 or RA 9593 and the p(–foul word(s) removed–)age of the Automated Elections System or RA 9369.
Richard Gordon Short Profile:
Richard Juico Gordon
Dick
Birthdate: August 5, 1945
lawyer
Castillejos, Zambales
Place of Voter Registration:
East Tapinac, Olongapo City, Zambales
Married to Katherine Howell Gordon
Political Party: UNA
Professional / Political Experience:
Senator of the Philippines (2004-2010)
Mayor of Olongapo, (1980-1986)
Lawyer
Broadcast Journalist (AksyonTV)
Brand Manager, Procter and Gamble Phils. (1966-1967)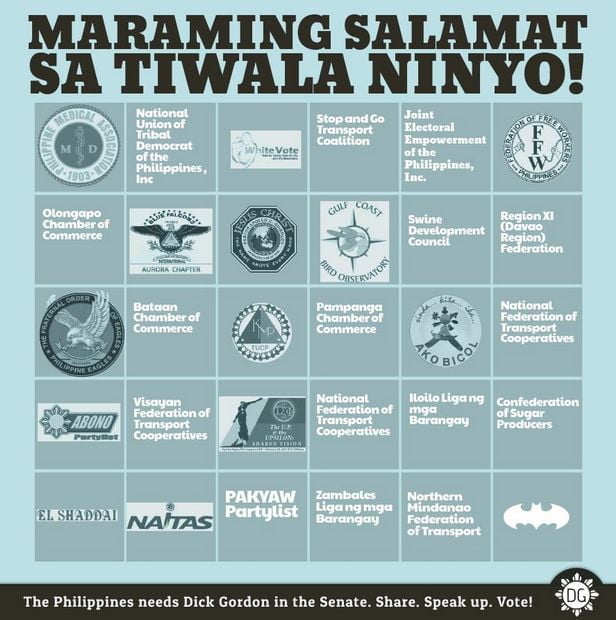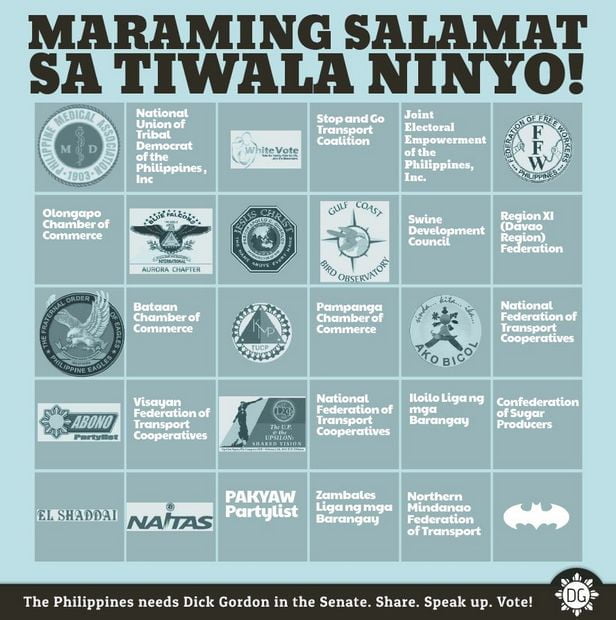 Education:
Lourdes Catholic School (Lourdes School Quezon City)  & Colegio de San Juan de Letran (elementary)
AdMU (high school, 1962)
AdMU (BA History & Government, 1966)
UP (Law, 1975)
Achievements and Distinctions:
Tourism Secretary, Wow! Philippines
Chairman and Governor, Phil. National Red Cross (1986-present)
Founding Chairman & Administrator, Subic Bay Metropolitan Authority  (SBMA) (1992-1998)
Youngest delegate of the Constitutional Convention (1971 to 1972)
The Outstanding Filipino (TOFIL 1996)
Some authored bills enacted to law: Automated Elections Law, Veteran's Law, National Tourism Policy Act of 2009, among others
Gold Humanitarian Award, Japan Red Cross (2008)
Gold Vision Triangle Award, National YMCA
Who's Who in Asia, NHK TV Japan (1995)
20 Great Asians of the Future, Asiaweek Magazine (1995)
Man of the Year, Alas Singko y Media Program, ABS-CBN (1996)
Most Distinguished Alumnus, UP Alumni (–foul word(s) removed–)ociation (1997)
International Awardee, Visit Korea, Ministry of Culture and Tourism, Republic of Korea (2003)

Dick Gordon Platforms:
Education

Agriculture
Enhancement of Tourism
Information Technology
National Defense
Know more about Dick Gordon:
comment(s) for this post "Richard Gordon Profile, Bios & Platform (Senatorial Candidate #15)". Tell us what you think abut this post by leaving your comments below.