The number coding of the MMDA will be lifted on Monday, May 13, 2013, license plates ending in 1 and 2 may p(–foul word(s) removed–) through major roads in Metro Manila without fear of getting flagged down.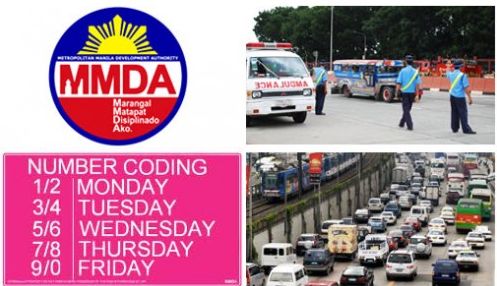 The Metropolitan Manila Development Authority issued the reminder as it said the lifting of the number coding applies to Makati and Las Piñas Cities. The Metro Manila number coding schemes, states that vehicles are barred from p(–foul word(s) removed–)ing through major thoroughfares from 7 A.M. to 7 P.M., to ease the traffic conjestion in metropolis.
The number coding suspension will allow the vehicles with plate number ending in 1 and 2 to go out during election day. The number coding will resume on Tuesday, vehicles with 3 and 4 will not be allowed on major thoroughfares and 5 and 6 on Wednesdays; 7 and 8 on Thursday; and 9 and 0 on Fridays.
Here's the official tweet of announcement by MMDA:
REMINDER: Number Coding is lifted on Monday May 13 (Election Day) in whole Metro Manila including Makati and Las Pinas. #MMDA

— Official MMDA (@MMDA) May 10, 2013