Grace Poe-Llamanzares is currently running for Senator as an independent candidate and a guest candidate of the administration party Team PNoy. She is the former chairperson of the Movie and Television Review and Cl(–foul word(s) removed–)ification Board (MTRC). She is the adopted daughter of the King of Philippine Movie and National Artist Fernando Poe Jr.
During her chairmanship at the MTRCB, she has accomplished introduction of a new cl(–foul word(s) removed–)ification system for movies and television. She initiated additional support to independent film makers.
Her platform builds on FPJ's social covenant and focuses on three areas: Poverty alleviation, Opportunities for all, especially the children, and Electoral reforms. Grace Poe has a Bachelor of Arts degree in Political Science from Boston College, USA and finished two years of Development Studies at UP Manila.
Grace Poe Short Profile:
Full Name: Mary Grace Poe Llamanzares
Nickname: Grace Poe
Birthday: September 3, 1968
Profession: Public Servant
Place of Birth: Jaro, Iloilo
Current Residence: Ugong Norte, Quezon City
Marital Status: Married to Teodoro Misael Vera Llamanzares
Political Party: Independent/Team PNoy
Education:
(–foul word(s) removed–)umption College
UP Manila (BA Development Studies)
Boston College (BA Political Science, 1991)
Achievements and Distinctions:
Adopted daughter of Fernando Poe, Jr. and Susan Roces
Former  MTRCB Chairwoman (2010-2012)
Chairperson, College Freshman (–foul word(s) removed–)embly (1986-1987)
Co-founder, Filipino Cultural Club of Boston College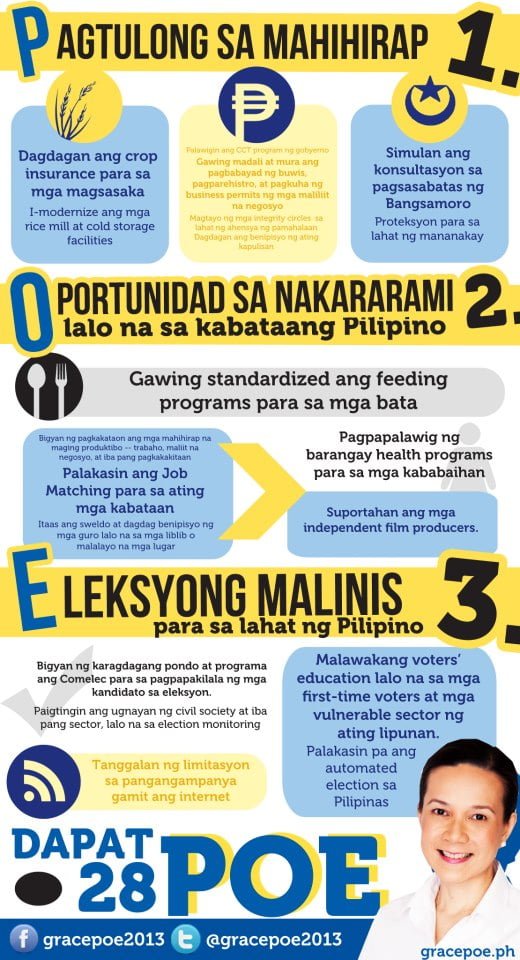 Platform of Grace Poe
Poverty Alleviation.
Opportunities for our Children. 
Electoral Reforms. 
Know More About Grace Poe (Video):