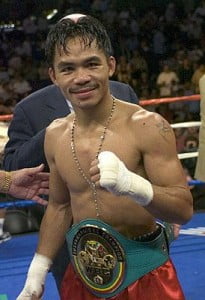 Filipino champ Manny "Pacman" Pacquiao expressed his plan of retiring from boxing probably next year.
Pacquiao who is now considered as one of the best boxer in today's generation is about to face the undefeated boxer Timothy Bradley this coming June 9.
Some boxing analysts have said earlier that Manny Pacquiao has proven himself in the boxing world and therefore there is no question if he wanted to retire.
Manny said during his interview that his fight with Bradley might be the last time that his fans would see him on the boxing ring.
The pound-for-pound king have defended his decision and explained that he wanted to be a devoted bible amb(–foul word(s) removed–)ador whom he accepted earlier offered by the church.
He added that being a bible amb(–foul word(s) removed–)ador is an important role and so he never wanted to see him fighting in the ring anymore.
On the other hand, Pacquiao also said that he wanted to be renewed and focus on more important things such as being a politician and reading the bible. Pacquiao, aside from being a professional boxer is also a Representative of Sarangani Province.
Last time, Manny had a one on one interview with ABS-CBN news reporter Dyan Castillejo where he pledged to renew and stay away from his bad vices now that he is a bible amb(–foul word(s) removed–)ador.