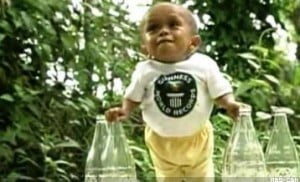 Another moment to watch out for, as the smallest man meets the tallest man from Turkey.
Recently,Philippines have once again put into the spotlight as the Guinness World of Records recognized Junrey Balawing from Sindangan, Zamboanga del Norte as the smallest man alive.
With a height of 1 foot and 10 inches, 18 years old Junrey have stolen the title from Nepal's Khagendra Thapa Magar who only measured 2 feet and 2.41 inches.
Now, Balawing has been invited to come to Italy and meet Sultan Kosen of Turkey to have a photo shoot together.
Kosen who is now 29 years old was given the title as the tallest man alive last August 25, 2009. According to study his height was affected due to a tumour which affected his pituitary gland.
The invitation was sent to Mayor's office of Sindangan and was confirmed by Mayor Nilo Sy.
According to Mayor Sy, three people were invited to fly going to Italy and that includes the Parents of Junrey. Sy (–foul word(s) removed–)ured ABS-CBN news that they are now in the process of fixing the papers and others things that the family needed to go to Italy.
The family expressed their excitement upon hearing the news last Monday especially Junrey who said that this is his first time to ride on an airplane.
Father of Junrey, Reynaldo Balawing said that they were approached by Mayor Sy and asked if they are willing to go and without hesitation they said yes. Mother of Junrey is also hoping that somehow this trip will serve as a stepping stone to change their lives for the better.
The family is expected to fly going to Italy by April this year.