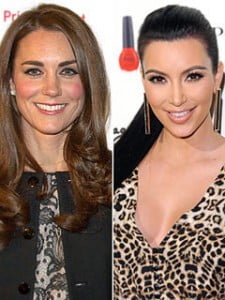 After the controversy of her divorce with Kris Humphries, Kim Kardashian was officially off to set the record of being the 2011's ill-mannered person. According to the national director of the National League of Junior Cotillions, or popularly known as NLJC, Elizabeth Anne, they made the annual etiquette list, compiled  by the etiquette and social training program to rank various actors, celebrities, singers and athletes based on one's "demonstration of dignity, honor and respect.
It was not a surprise because Kim Kardashian, the divorcee is obviously making her scene off the road "making a private matter public and disrespecting the institution of marriage." Maybe it's time for her to learn manners from Kate Middleton, who met the expectation of the public and was certainly named as the 2011's Best Mannered Person.
Her royalty, who was praised for her poise and dignity with which she conducts herself in the public spotlight, was an absolute clear front-runner for the year's top-list. Prince William must surely got lucky of her wife!
Among the list that were applauded for their behavior this year were Justin Bieber (no.2), Paula Abdul (no.3), Taylor Swift (no.5), and Emma Watson (no.9).
Are you with the NLJC's list this year? Do you think Kim Kardashian deserves to be the 'diamond in the rough' who lacks social graces? You tell your side… 😀