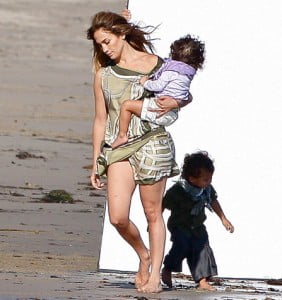 Actress-singer Jennifer Lopez was spotted at Kauai, Hawaii during Thanksgiving together with her twin babies and dating partner Casper Smart.
Us Weekly has confirmed that the two has spent their Thanksgiving day together at the beach in Hawaii where they had a bonding time with the twin Max and Emme.
The lovebird's relationship seems to get more intense as the days p(–foul word(s) removed–) by and becomes more revealing to the public that they are serious with each other.
Months after Lopez and husband Marc Anthony announced that they will separate ways, speculations started to circulate if a third party happened to be the reason of their break up.
Now, Jennifer Lopez looks like has already moved on and started a new life by dating Casper Smart a Los Angeles-based dancer.
It was reported at the Us Weekly that the twin babies were comfortable being with Casper as they were seen playing together doing twirling around and flips while Lopez on the other hand was sitting back relaxing and watching them as they enjoyed each others company.
Earlier statement of Jennifer Lopez said that she will keep her personal life private as of the moment especially her relationship to the 24 year-old back up dancer, Casper Smart not until they become official and settles to a serious relationship.
The 42 year-old Idol judge seems to stressed out to the public that she is not comfortable talking about her love life as of the moment but her actions in the past days shows that she is not afraid to show it.
It was also reported that after Jennifer's performance at the American Music Awards last Sunday, Lopez was seen sitting in the lap of Casper while kissing the dancer.