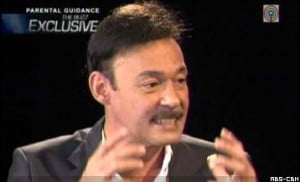 The father of Andi Eigenmann, Mark Gil, appears on the Philippine television on Sunday in ABS-CBN's "The Buzz" expressing anger towards the father of Andi's baby.
In an exclusive interview, the veteran actor blasted with anger on the guy behind the pregnancy of his daughter Andi. Criticisms burst on the set when Mark Gil publicly explained his personal view towards the issue not mentioning the guy's name.
Mark Gil condemned the identity of the one who caused Andi to be pregnant. Gil harshly accused the person regarding his previous mistakes against the young actress who rose into popularity playing the lead role of the defunct ABS-CBN primetime TV series entitled "Agua Bendita".
Andi's father boldly gave a hint regarding the identity of the father of Andi's baby by recalling that such person physically abused Andi back then. Mark Gil said that he was referring to the guy who posted in the Formspring social site that Andi was a cheater.
Gil attempted to communicate with that person upon knowing about those hurtful acts. However, he failed to contact the guy. As a father, Mark Gil wanted that guy to personally face their family who once welcomed him fully.
The veteran actor described him to be a person having a bad character who can afford to slap his daughter's face. Furthermore, Andi's father told "The Buzz" that such person could hate the world with his huge problems.
According to Mark Gil, there was even a time when that guy encouraged Andi to take a pill so as to abort the baby. He even suggested the guy to end the issue he raised in Formspring and challenged him to face the responsibility and consequence he caused towards his daughter.
The interview even reached out to the parents to asking them to teach their son well. Mark Gil's statements seemingly unveils to the public that the guy's parents were the one who insulted them for a DNA test.
Meanwhile, report says that Andi Eigenmann is expecting a baby girl. Despite her present situation, Andi has the full support of his family as Gil is (–foul word(s) removed–)ured for his view that what had happened will not affect the career of his daughter.
In case that the guy will personally give a formal apology, Mark Gil said that he is willing to forgive him.
Jake Ejercito and Albie Casiño are rumoured to be the father of Andi's baby.  It was already clarified that Jake Ejercito, the son of ex-president Joseph Estrada, is not the guy behind the child of Andi. Yet, Albie Casiño keeps on denying the charges until now.