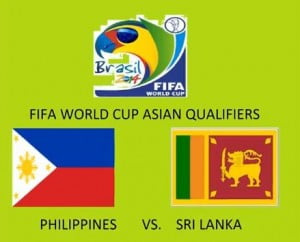 The Philippine Azkals have lead in aggregate scores against Sri Lanka because of Burkey's away goal although the game have ended in a draw with a final score at 1-1. The Sri Lanka Brave Reds had scored at first by a goal from a penalty kick of Guranathe near the end of the first half.
Meanwhile a p(–foul word(s) removed–) from Caligdong to Nathaniel Burkey to a goal have made the visiting Azkals scored a goal and a draw against the Sri Lankan National Football Team. The Philippine Azkals found it difficult to score because of the tough defense from Sri Lanka Brave Reds
The Philippines will then host the second leg to be held at the Rizal Memorial Stadium in Manila on July 3, 2011. The winning team will then face Kuwait in a home and away game to be held on July 23 and 28.
Here is the highlight video of the game between Azkals and Sri Lanka:
[youtube]http://www.youtube.com/watch?v=inxhhvEoERY[/youtube]