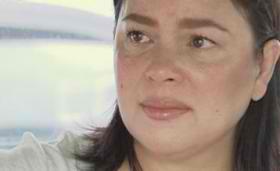 Finally, the multi-awarded actress Jaclyn Jose made a confirmation that her daughter Andi Eigenmann is currently pregnant for four months. Jose had spoken on Wednesday via an exclusive interview to break the rumors which scatter on all sorts of media.
The young actress, whose career had just bloomed in showbiz, will now have to expect her first baby. Eigenmann, 21, reached the peak of her showbiz career when she was given the chance to play the lead role for the primetime TV series "Agua Bendita" which is now a defunct show of the ABS-CBN network.
Veteran actress Jaclyn Jose, as a mother, bravely faces the media to confirm the issue despite being so emotional. Reporters of the ABS-CBN spotted Jose in Antipolo while she was doing a taping for "Maalaala Mo Kaya".
On the interview, Jose delivered a statement saying that the spreading pregnancy rumor about her daughter is true. Though it was hard, she decided to confess it on media because of the fact that she loves her daughter so much. As a mother, Jose believes to the idea that no one will truly help Andi on this matter except for her and their family.
To be exact, Jose declared that Eigenmann's pregnancy is now on its 18 weeks and 2 days. As of now, the young actress is doing well as she (–foul word(s) removed–)ures everyone that she will personally handle everything in connection to her daughter.
The father of Andi's first baby happens to be her ex-boyfriend according to Jose. The guy was Andi's first sweetheart as well. However, she never mentioned the name of the guy but told the media that he chose to leave Andi when he knew that the young actress was pregnant.
As a deeply concerned mother, Jose becomes angry each time she remembers that Andi had been abandoned by her former boyfriend upon knowing about her situation.
It was publicly known that Andi used to be Albie Casiño's girlfriend. Albie Casiño, who is also cast of the famous "Mara Clara" series, accused his Star Magic co-star and ex-girlfriend Andi for being a cheater while the two was still in a relationship.
At present, the 21-year-old actress is (–foul word(s) removed–)ociated to the ex-President's son identified as Jake Ejercito. Jake's parents are Joseph Estrada and Laarni Enriquez.
As the mother, Jose was deeply hurt when her daughter confessed everything to her so she headed her way to the church to pray and put all her trust unto the Lord.
Jose tried to finally accept Andi's situation as she decides to prioritize just Andi and her baby. On the brighter side, the veteran actress is proud to know that her daughter still chose to keep the baby despite the fact that she is at the peak of her career. The decision of Andi is truly supported by her family. She made it to a point to request everyone not to judge Andi although comments cannot be avoided.
Andi told her mother to finish her taping for the series entitled "Minsan Lang Kita Iibigin" as a responsibility of being one of its lead roles. Despite the sudden situation, Jose still holds the hope that the door will still be open for her daughter's showbiz career.