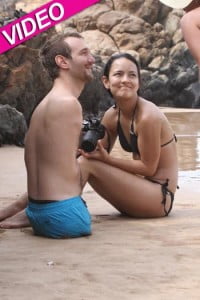 Imagine yourself having no arms and legs. Can you still live a contented and happy life? Well Nick Vujicic did it. He did it well actually despite of his physical disability; he did not stop living his life to its fullest.
He was a motivational speaker born with no limbs. He makes a name of his own by inspiring people and sharing the word of God. And now he is having a reward from above. Last February 12, Nick Vujicic married Kanae Miyahara in California. The couple is enjoying their honeymoon in Hawaii just like any other newlyweds. The environment was also very romantic suited for a couple that seems so in love with each other. The couple was a picture of a happy family even just looking at both of them. Their eyes sparkle of promises and faithfulness. And they already prove it when they walk down the aisle in their wedding.
Nick was born in Australia year 1982. His parents was surprised seeing their son in this situation, they never imagined that Nick will be different with any other baby. But his parents Pastor Boris and mom Dushka Vujicic said that they will never get tired in motivating their son to have a normal life like any other kids in town. His disability won't be a hindrance rather a way leading him to success.
And that's what just happened. Nick never stopped but continues not only to live but to live with purpose, and that is to inspire others who are special like him and also to those who are physically normal but need to lighten up a bit for them to appreciate how beautiful life is.