College Student Elicits Reactions Online After Accidentally Leaving Behind her Graduation Toga in Billiard Hall
A college student elicits reactions from the online community after she accidentally leaving behind her graduation toga at a billiard hall.
PB8 Billiards & KTV, a Facebook page, shared a photo of a forgotten graduation toga, left behind by a college student. The post quickly circulated online after it was posted on social media.
The establishment said that a group of graduating students next week flooded the area because they had just finished their baccalaureate mass at school. It was a typical celebration for students who were on the brink of becoming graduates.
However, amidst the laughter and festivities of these students, one important item was left behind – a graduation toga. The staff at PB8 Billiards & KTV noticed it just five minutes after the group had left. Given how many students had similar togas that night, it wasn't immediately clear who the owner was.
The staff members decided to take matters into their own hands just to return the graduation toga. The staff searched for the name of the person who left it on Facebook and messaged her.
"5 mins after this group left, I saw the toga na naiwan. Madami kasing may dala ng toga last night. Familiar faces naman mga customers namin but I don't know their names. So, I searched sa Facebook ang name ng nakaiwan and I messaged her," PB8 Billiards & KTV said.
Fortunately, the person who had left the toga promptly replied that the graduation was scheduled for Wednesday.
Previously, a graduating student cooks rice while wearing toga: "aalis na nga lang pinag saing pa"
"Nag-reply naman and good thing sa wednesday pa naman graduation kaya mababalikan pa naman daw niya today hahaha Kaya lang taga Rizal pa siya so baka ipa-rider na lang," the page added.
The social media users expressed their reactions to the page's post: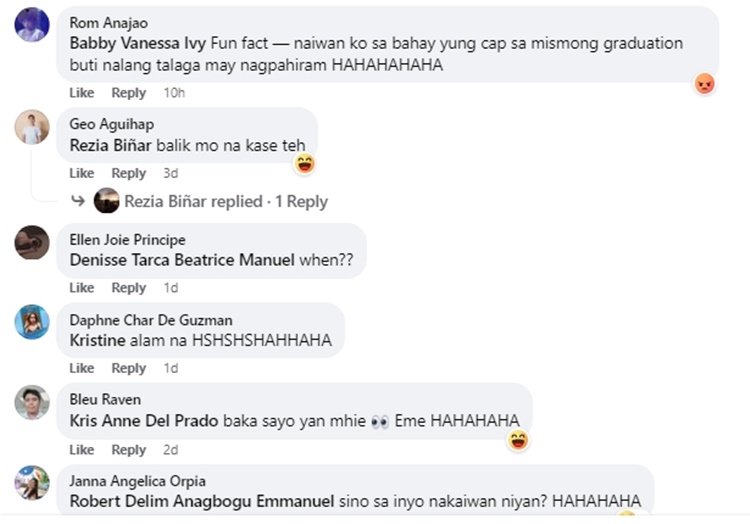 Thank you for visiting Philippine Trending News (Philnews.ph). You may also follow us on the following social media platforms; Facebook, Twitter, and YouTube