Painter Devastated After an Ungrateful Teacher Burns His Artwork Without Paying
A devastated painter airs disappointment online after an ungrateful teacher allegedly burns his artwork without giving payment.
Painters, like many other artists, may experience a variety of difficulties throughout their artistic careers. These difficulties can be caused by both internal and external circumstances, and they can have a substantial impact on their artistic development and success.
Rejection is one of the challenges painters are facing. The art market is extremely competitive, and painters may endure customer rejection and criticism. Because artistic appraisal is subjective, not every artwork will resonate with everyone, and rejection can be discouraging.
A dissatisfied painter unleashed his rage on Facebook against a client who disliked his work and reportedly disrespectfully burned it. According to Edmar Casinillo, an unappreciative teacher who asked him to create 14 head portraits allegedly rejected his work.
He claimed that he worked on the artwork for more than two months. However, the instructor customer turned it down and never paid him for his time. What's more upsetting is that the impolite teacher allegedly torched it without paying for it.
The Facebook post quickly went viral, eliciting a wide range of comments from the online community. Netizens chastised the teacher and advised the painter to sue her. Some even mocked the teacher's visage, saying it could never be lovely in the artwork.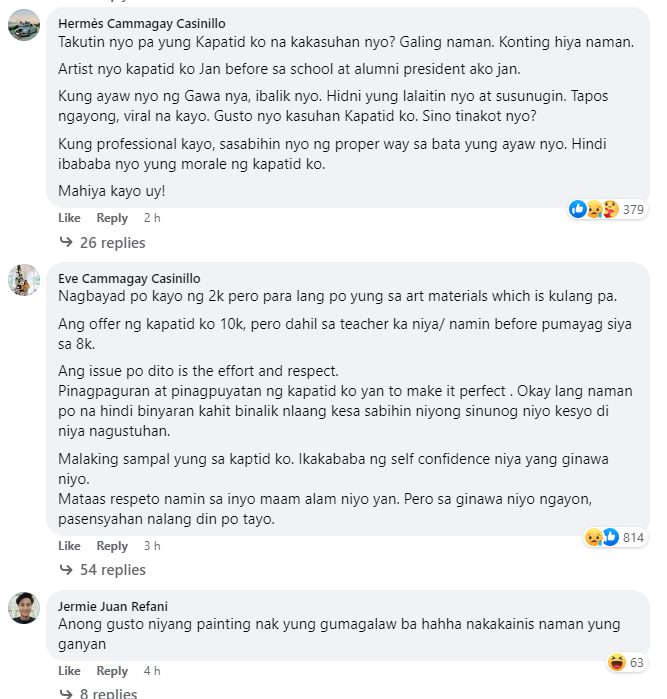 READ ALSO: Ex-PBA Player Shot by a Boy, 15, After He Fails to Give Money
What are your thoughts on this article? Just feel free to leave your reactions in the comment section.
Thank you for taking the time to read this. We aim to give the freshest and in-demand content to our visitors. Come back next time at Philnews for more updated news.