Here's How Vanessa Hudgens Promote The Philippines
VANESSA HUDGENS – Hollywood star Vanessa Hudgens shared how she will promote the Philippines.
On March 25, Vanessa Hudgens landed in the Philippines. She is visiting the country for the first time. The High School Musical movie gave the Hollywood actress her big break.
Vanessa has brought up her Filipino heritage in a few of her interviews, despite this being her first visit to the Philippines. She has a Filipino mother.
Vanessa Hudgens is deeply thrilled to have been chosen by President Ferdinand Marcos Jr. as the first Hollywood celebrity to represent the Philippines abroad in the field of tourism.
King of Talk Boy Abunda questioned Hudgens at her press appearance in Manila for her travel documentary about her Filipino heritage about what she would say to people if they inquired about the Philippines.
"It's a little bit of everything! It's a lot of a bit of everything! It's got paradise, it's got metropolitan city. It's got kindness. Everybody's so warm, so friendly. The people here are very unique. Everyone is just so warm! I feel like I haven't met anyone who seems having a bad day. The hospitality is unmatched. It's got wonder and is really a magical place!" she beamed.
READ ALSO: Vanessa Reveals Lea Salonga Inspired Her To Sing
Vanessa Hudgens' travel documentary, which has the working title "The Awakening," is directed by Paul Soriano and takes "an intimate look at my experience here in the Philippines for the very first time," the actress said.
"Really just discovering this beautiful land and wonderful people and just really getting in touch with the piece of myself that has always been there but I've never known intimately," she enthused.
The actress-singer remarked during the press conference that she can't wait to be back and do more here since she flew back to the US the night of the press conference.
"I can't already wait to come back! I feel like the time that I spent here has been so incredible and so special but I need more time. The country is so big! It has so much to offer."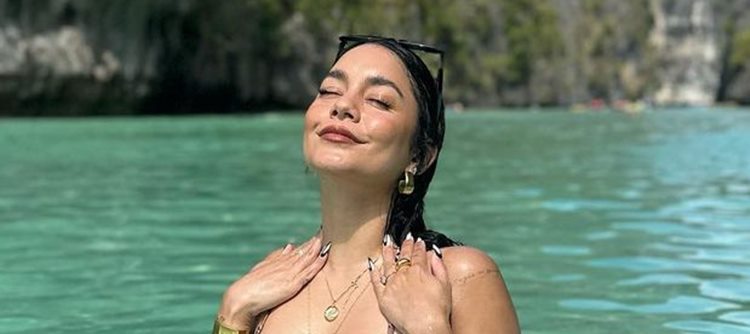 Aside from beaches, she added, "I'm going to hang out with tribes, there's so much to do. I haven't even gone shopping! "
Because she was unable to do so during her first visit, she also hopes to participate in karaoke.
"And then there's Tinikling which is my most favorite thing ever! I'm going to get like bamboo sticks so I get to make my friends do it and so I could practice at home. So next time I come, there'll be a Tinikling challenge. Face off!"
If given the chance to create her own project in the nation, she would say: "I love culture and I love the past. I love things that are untouched by the current world that we live in, technology, everyone's fighting to get ahead… Maybe I'd do something about the tribes because I feel there's not a lot of light on that and it would be nice to be able to preserve that."
After visiting Palawan, she said she is also fascinated by the natural furniture and lighting elements in Cebu. "The rattan, the wicker, the Mother of Pearl, it's all just so beautiful to me that I always loved and then I go, 'Oh yeah, makes sense, because it's Filipino!'" she said.
What can you say about this article? Leave your comments and reactions below.
READ ALSO: Alex Gonzaga Dedicates This Funny Mashup To Vanessa, Toni Gonzaga
Please like and follow/subscribe:
Philnews YouTube Channel
Philnews.ph FB Page
Viral Facts