Feng Shui Experts Suggest 12 Lucky Fruits for New Year's Eve 2023 (Year of the Water Rabbit)
12 LUCKY FRUITS – Here is the list of twelve lucky fruits for New Year's Eve 2023 that can allegedly bring good health wealth and prosperity.
Over the previous decades, a lot of people all across the globe including the Philippines have been preparing mouth-watering, delicious, and healthy foods during New Year's Eve celebration.
Most people believe that preparing lucky foods will bring allegedly bring prosperity, good health and good luck throughout the entire year. Some of us were even serving the so-called lucky fruits.
Round fruits have been already a part of the Filipino culture and tradition every New Year's Eve. Several Feng Shui experts suggest fruits that will bring fortune and positive vibes next year.
Most experts believe that round shape symbolizes the coins and 12 represents the number of months per year.
Here is the list of lucky fruits that we can serve for New Year's Eve 2023:
Pineapple – Feng Shui experts claim that it represents prosperity and wealth wherein "Ong-Lai," the Chinese word for pineapple means "fortune cones".
Orange – It contains a lot of vitamin C and its bright color are expected tobring joy and happiness
Apple – It is believe that this fruit can attract peace and harmony
Mango – Aside from being full of nutrients, the sweetness of this fruit indicates strong and healthy family relationship
Banana – This fruit symbolize unity and happiness based on its color
Watermelon – It symbolizes prosperity while its seeds reportedly stand for abundance
Avocado – Its green color and pink pump symbolize prosperity
Grapes – Grapes are usually associated with abundance and fertility
Papaya – It represents gold in Chinese tradition and expected to bring good luck
Lemon – This lucky fruit is expected to remove negative vibes
Lychee – Its red body and round shape stand for happiness and good fortune
Pomegranate – In Chinese culture, it speaks fertility and believe to keep evil spirits away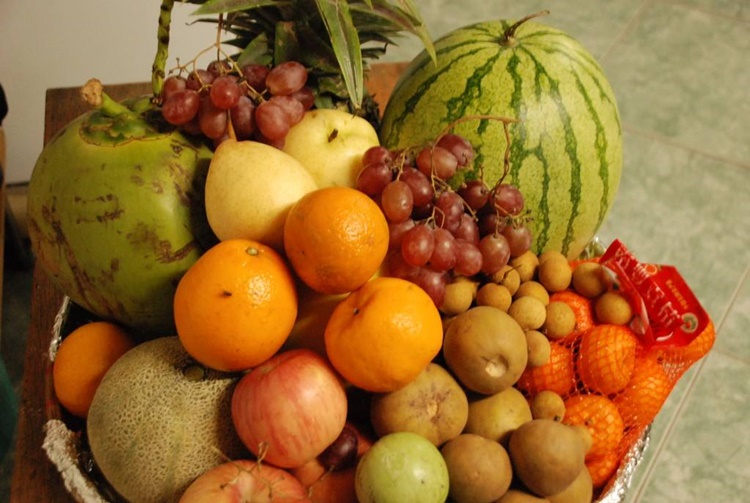 What can you say about these lucky fruits? Just feel free to leave your comments and reactions to this article.
Thank you for visiting Philippine Trending News (Philnews.ph). You may also follow us on the following social media platforms; Facebook, Twitter, and YouTube