LUCKY NOODLES SOLAIRE MENU – Here are the dishes and prices that Solaire's Lucky Noodles restaurant is offering.
When it comes to noodles, a nice warm bowl of hand-pulled noodles is surely irresistible. These are the selections along with the prices based on the menu of Lucky Noodles restaurant.
Lucky Noodles Solaire – Menu and Prices Of The Restaurant
These are the menu and prices at Lucky Noodles Solaire. Check it out below!
LUCKY NOODLES SOLAIRE – If you are in for some Chinese treats, Lucky Noodles at Solaire Resort and Casino is definitely the place to be.
Solaire's Lucky Noodles is surely the one to satisfy your cravings with its signature noodle dish. As said, they give nothing but a "comforting, rich in flavor, and utterly irresistible" bowl of "hand-pulled noodles". Who wouldn't salivate over their big bowl of warm noodles, right?
Apart from the delicious fare of soups and noodles, they also have rice dishes and other traditional Asian comfort food.
Their menu reflects sections such as appetizers, congee, sides, Singaporean foods, noodles, dim sums, Asian classics, make-your-own, desserts, beverage specials, wines, beers, juices, teas, coffees, and cold beverages.
You can also inform a member of their team if you have food allergies or any dietary restrictions.
For appetizers, they have Vegetable Spring Rolls, Taiwanese Chicken Popcorn, Fish Balls, Prawn Toast, Roasted Crispy Pork Belly, Char Siu, and Spicy Prawn. They also serve several types of dim sums and soups.
For side dishes, you may choose from Kani Salad, Kimchi, Egg Fried Rice, Hainanese Rice, Garlic Rice, and Steamed Rice. The place's Asian Noodles has Hong Kong-Style Wok Fried Noodles, Chef Boie Pansit, Mee Goreng, Singapore Seafood Sar Hor Fun, and Wok-Fried Noodles With Tuna.
The Signature Noodles has Chinese hand-pulled noodles with Australian M9 Wagyu and premium beef bone broth. In the Chinese Specials section, they have Hong Shao Pai Gu Xiang Gu Mien, Gan Chao Niu He, Niu Ru Tang Mien, and Wok-Fried Noodles With Beef.
For their Make-Your-Own Meal, you can choose one kind from each category: rice, main dish, and sides.
For the Make-Your-Own noodles, you can choose one kind from each category: noodles, meat, vegetables, and soup.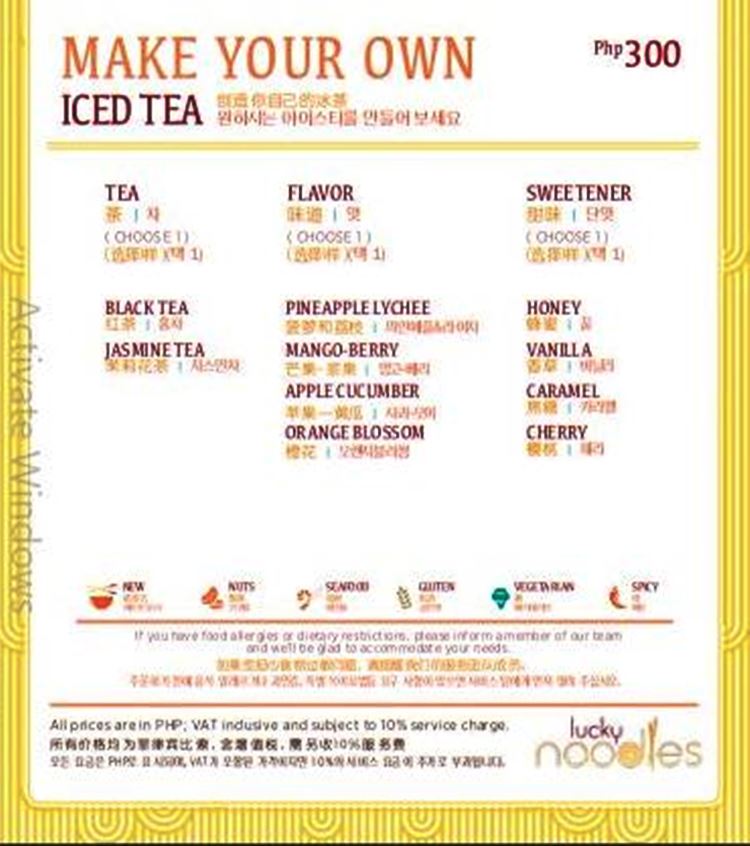 Check out the other items from the menu below:
READ ALSO:
What can you say about this? Let us know!
For more news and updates, follow us on Twitter:@philnews_ph Facebook:@PhilNews, and YouTube channel Philnews Ph.