Department of Education (DepEd) reported on Wednesday that at least 979,465 elementary and high school students in Eastern Visayas had registered for the new school year as of August 16.
This figure represents 75.24 percent of the 1,301,782 actual students from kindergarten to senior high school recorded during the Academic Year 2021-2022, according to DepEd 8. (Eastern Visayas) according to Jazmin Calzita, information officer.
The department of education has been conducting physical enrollment since July 25, she claimed, with the option of a remote enrolment.
"We expect to register all school-aged children in the next days since other parents and students practice last-minute enrollment," Calzita said in the interview.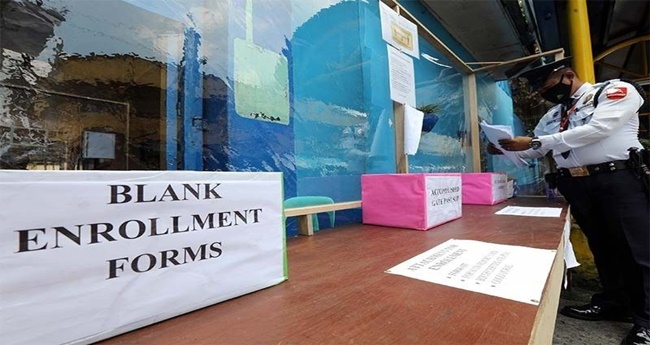 According to the report of Philippine News Agency that the option to enroll in person is allowed as long as minimal health and safety requirements are followed. Including the use of face masks, a temperature check at the door, the availability of rubbing alcohol, and physical separation to prevent the transmission of the virus.
By having parents, guardians, and students fill out electronic forms and send them via the school's official email address or any of the accessible messaging platforms, schools can also support remote enrollment. According to Calzita, they are optimistic about finding the remaining 25% of youngsters who are not yet enrolled using techniques including home visits, group discussions, and collaboration with local authorities.
The report also mentioned that Brigada Eskwela was carried out by the DepEd, with an emphasis on preparations, collaborations, and an awareness campaign to support the department's efforts to guarantee high-quality basic education.
The DepEd only recommended the alternatives of in-person classes, mixed learning modality, and entire distance learning through October 31 this year for the new school year that will begin on August 22.
Beginning November 2, all public and private schools will be required to switch to five days of face-to-face instruction. Except for those implementing alternative delivery modes as specified in a department order issued in 2019, no school will be allowed to implement purely distance learning or blended learning.
However, school health protocols for face-to-face classes must be carefully planned in accordance with national and international guidelines to ensure that students are safe or, at the very least, that the effects of COVID-19 are mitigated. After all, students' lives are as important to them as education is to them. Every government is responsible for ensuring its fulfillment.
You may also visit: DepEd Speaks on First Day of Classes Under Blended Learning