Blessed Image of Virgin Mary in Cebu is Crying Blood and Water
Miraculous image of the Blessed Virgin Mary, is crying with blood and water in Simala Shrine, Simala Cebu.
The Blessed Virgin Mary's image is reported to have shed blood and water on multiple occasions, according to devotees in Cebu.
It is believed that the first time the blessed image cried with blood and water was in 1998. In that year, the people began to devote themselves to the holy mother.
When the image was first brought to Negros in July for the pilgrimage, it is reported to have cried blood and water on the first night of vigil.
In a report by GMA News, no one can tell when the image will shed tears.
The people of the area held the belief that anyone who saw the blessed picture crying would be blessed and given numerous graces.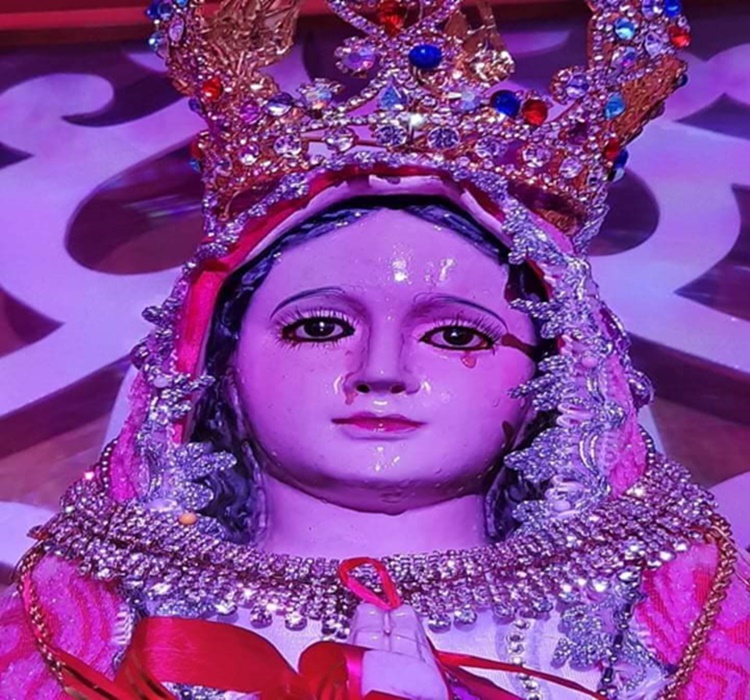 A photo taken while the Blessed Mary is crying and was presented to Fr. Larry Martinez, the priest of the parish where the Virgin Mary reportedly cried.
Even though Fr. Martinez never witnessed the tear, the picture itself was enough to make the priest emotional.
Maraming pumasok sa isip ko. Ano talaga ang mensahe na nais ipaabot sa amin. Kasi first time ito," said by Fr. Martinez who believe that the tears of the Blessed mother will bring blessing to his parish.
[Translation: Many things came to my mind. What is the message want to convey in us? Because this is the first time I experience this,"]
According to a report, a person who looks after the image and has seen it cry revealed that a profound transformation occurred in his life after witnessing a miraculous incident.
This venerated image of the blessed mother was been put to the shrine build in honor for her at Simala Cebu.
Multiple miracles has been associate with her as they ask intervention, to the blessed mother to help them heal from the sickness.
In line with that, the Catholic church has it stands that the miracle is only considered personal miracles and it was not still considered of the church.
You may also visit: Virgin Mary Statue Got Stolen From a Barangay in Sampaloc, Manila