Here is the LET Teachers Board Exam Result January 2022 Including the List of Passers for Secondary Level (Y-Z)
LET 2022 Results – Here is the LET Board Exam Result January 2022 including the list of passers (Y-Z) Secondary Level from PRC.
The January 2022 LET Teachers Exam Results including the list of passers, top 10 passers, top performing and performance of schools will be available on this website after will be released by PRC.
The Licensure Exam for Teachers have been conducted at various PRC testing centers in the National Capital Region, Bacolod, Baguio, Cagayan De Oro, Catanduanes, Catarman, Cauayan, Cebu, Davao, Dumaguete, Iloilo, Jolo, Koronadal, Legazpi, Marinduque, Masbate, Occidental Mindoro, Pagadian, Palawan, Pampanga, Rosales, Tacloban, Tagbilaran, Tawi-Tawi, Tuguegarao and Zamboanga.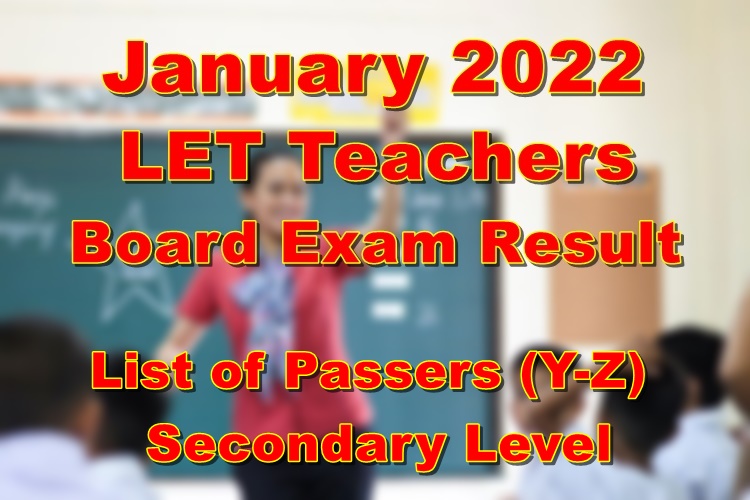 PRC Board of Professional Teachers chairman Dr. Rosita L. Navarro, Vice Chairman Dr. Paz Lucido, and its members Dr. Paraluman R. Giron and Dr. Nora M. Uy on January 30, 2022.
SUMMARY OF RESULTS
Here is the List of Passers for Secondary Level (Y-Z):
11990 YABA, CHRISTINE MARANAN
11991 YABUT, MARINELLA BIE
11992 YACO, LOREN PEREZ
11993 YAGO, MARY CRIS BULAYBULAY
11994 YAHCOB, ANALYN MOHAMMAD
11995 YAMA, JANEVIC PERATER
11996 YAMBAYA, KATE HONEYLEI UBIÑA
11997 YANGAO, MARIA FE BARDILLON
11998 YANOS, HAIZEL BALLAD
11999 YANSON, JANRIE AYOHAN
12000 YANSON, JULIA FLYNN ALAMA
Page 241 of 242
Roll of Successful Examinees in the
L.E.T. – SECONDARY
Held on JANUARY 30, 2022
Released on MARCH 11, 2022 Page: 242 of 243
Seq. No. N a m e
12001 YANTO, ANGELA TANIERLA
12002 YANTO, ANGELUZ TANIERLA
12003 YANTO, MARIA ELIZABETH ASOR
12004 YANTO, UZIEL ANN TEJERESAS
12005 YAP, NOELYN ROSEL
12006 YARA, ANGELA KAMILLE ABELA
12007 YARA, BABY EDEN GRACE GAURAN
12008 YARES, SHERLYN LOZARITA
12009 YASOÑA, RIA ROSE DE RAMOS
12010 YAYEN, MARIZEL LLAVAN
12011 YAÑEZ, JANETH TACBAS
12012 YBAÑEZ, CARMELINO JR LIHAYLIHAY
12013 YBAÑEZ, KRISTEL CATIPAY
12014 YBAÑEZ, MARLYN PAGTALUNAN
12015 YBAÑEZ, MICHAEL NALAZON
12016 YEDRA, LARA JANE PANERGALIN
12017 YEE, MARY JOY VENTE
12018 YENGYENGAN, MELANIE REYES
12019 YGOT, REYNIE MONTERDE
12020 YIP, SOO SAN ALAC-AC
12021 YMAS, SHANNEL BACALSO
12022 YOCTE, CHRISTAMIE-JAM SAPLAD
12023 YONG, MIKE ANDREW OLPOS
12024 YONGCO, MARK IAN BAJAS
12025 YONTO, JESHIEL ANN SAJOL
12026 YOSORES, MARICEL BORJA
12027 YOY, LITO JIM MARCIAL
12028 YOYONGCO, NILO JR ESTEBAN
12029 YTAC, SYRA MAY DISPO
12030 YTEM, NHEÑO CARLO JUDE FELIAS
12031 YU, MARY GRACE DALIGDIG
12032 YU-IPCO, DAVE SASAN
12033 YUBA, AIRONALDA DADO
12034 YUMOL, DHAVID MORISH EMITERIO
12035 YUNTING, RUBILYN CANOY
12036 YUSUF, GYLL SECUGAL
12037 YUTUC, MARGARET PAJAYON
12038 ZABALA, KATHY TABARNO
12039 ZABANAL, JAYZA MAE GORDON
12040 ZACAL, JULIE ANN OCLARIT
12041 ZACARIA, NADIA LEGALO
12042 ZACARIA, YASSER MUSALEM
12043 ZAIDE, CRES JOY ZURIELLE MONTALBO
12044 ZALDUA, BERNADETTE SECO
12045 ZALUN, MARY ANN MATERUM
12046 ZAMBOANGA, CHRISTINE MADAMO
12047 ZAMBRANO, JEZREEL MAY RIVERA
12048 ZAMBRANO, MARIA LOVELLA SALLAO
12049 ZAMORA, ARON PAUL LICUP
12050 ZAMORA, CATHERINE JOY BAUTISTA
Page 242 of 242
Roll of Successful Examinees in the
L.E.T. – SECONDARY
Held on JANUARY 30, 2022
Released on MARCH 11, 2022 Page: 243 of 243
Seq. No. N a m e
12051 ZAMORA, CHRISTINE JOY PONDOC
12052 ZAMORA, JOY MAE BEDUYA
12053 ZAMORA, MARY GRACE CASTILLO
12054 ZAPANTA, CHRISTIAN QUIAMBAO
12055 ZAPATOS, CZAERINA FERMILAN
12056 ZAPE, RACHEL ALVAREZ
12057 ZAPICO, QUENNY BAGTONG
12058 ZAPORTIZA, ZACHARY GABIA
12059 ZARAGOSA, PERLA ESTONILO
12060 ZARAGOZA, JEANETH HAZEL CARLOS
12061 ZARATE, DEBRITZ DAAMO
12062 ZARATE, JILLIAN KAYE BUSTILLO
12063 ZARSUELA, MIA GLENN BRITANICO
12064 ZENITH, WILLIAM MONTERO
12065 ZERRUDO, ALAIZA ALCANTARA
12066 ZETA, MARK THEO PLUMA
12067 ZINAMPAN, CARL STEVEN ENTION
12068 ZINGABO, VIVIAN LIBAN
12069 ZIPAGAN, JULIE ANNE BAYAD
12070 ZIPAGAN, MICAEL UMACAM
12071 ZOZOBRADO, CHUSTINE DANIEL
12072 ZULITA, PRINCE JAN ROSILLO
12073 ZUMARRAGA, BENNUEL JARDINERO
12074 ZUÑIGA, EMMA PIL VELLENA
NOTHING FOLLOWS———————-
Exam Coverage
General Education (GenEd)
English – Study and Thinking Skills, Writing in the Discipline, Speech and Oral Communication, Philippine Literature and Master Works of the World
Filipino – Komunikasyon sa Akademikong Pilipino, Pagbasa at Pagsulat sa Panananaliksik at Masining na Pagpapahayag
Mathematics – Fundamentals of Math, Plane Geometry, Elementary Algebra and Statistics and Probability
Science – Biological Science – General Biology, Physical Science with Earth Science
Social Sciences – Philippine Government New Constitution with Human Rights, Philippine History, Basic Economics, Taxation, Agrarian Reform, Society, Culture with Family Planning; Rizal and other Heroes, Philosophy of Man, Arts, General Psychology and Information and Communication Technology
Professional Education (ProfEd)
Teaching Profession, Social Dimensions of Education
Principles of Teaching, Educational Technology and Curriculum Development
Facilitating Learning, Child and Adolescent Development
Assessment of Student Learning, Developmental Reading
Field Study and Practice Teaching
Requirements
Notice of Admission
Duly accomplished Oath Form
2 pieces of passport-sized ID photos in white background and with complete name tag
2 sets of documentary stamp
1 piece short brown envelope
Release Date
LET exam results are expected to be released within 25-30 working days after the last day of examinations or on March 1-11, 2022.
Note
However, the examinees should expect that the exam results might be released earlier or later than the expected date without prior notice.
Aspiring teachers can visit PRC official website to view the board examination results and their passing rate. Examinees will be required to provide their full name, birthdate, exam name, date of examination and application number.
Thank you for visiting Philippine Trending News (Philnews.ph). You may also follow us on the following social media platforms; Facebook, Twitter, and YouTube.