2 Dogs Frequently Visiting Gas Station In Calapan City Became Official 'Ambassadogs'
CALAPAN CITY – The two dogs who frequently visit a Petron gas station in Lumangbayan, Calapan City, has become the latter's 'ambassadogs'.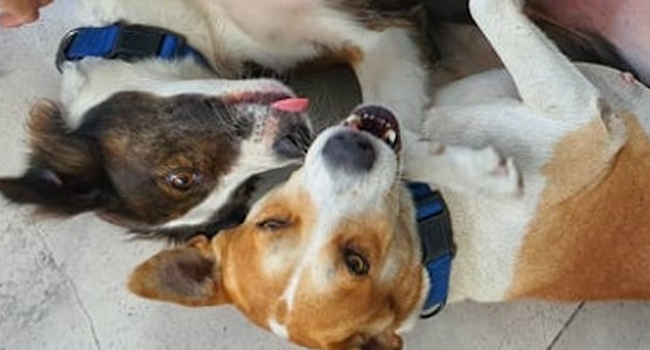 The two dogs, named Prince and Bodyguard, would often visit the gas station, which was opened in 2018, every morning to get free food, play with the customers and staff, and even guard its convenience store at night, according to PhilStar.
The gas station is located on the lot, which gas station proprietors, Edwin and Lisa Acob, shared with another business specializing in armored vans.
Lisa said that the dogs were initially owned by their neighbor.
"Since one lot lang kami, the dogs would come here every day and I noticed that they would make our staff and eventually our son Jed and daughter Andrea happy,"

"We started feeding them every day since parang lagi silang hungry. So 'yung daughter ko, gave food allowance every day for our staff to buy food," 
Prince was the first to frequently visit the gas station, among the two of them.
"He loves to mingle with the customers and talagang lumalapit siya and nagpapahawak,"

"Dito sa Petron, lahat love siya—nilalambing, nilalaro, kumakain ng maayos, naliligo. He would sleep inside the office, naka-aircon the whole day until closing time. Ayaw na niya umuwi."
Then a time came where Prince and his real owner had to leave for another place. Lisa and Edwin went all out to keep the dog where he is the happiest.
"Until one day last year, mga October or November, aalis na daw 'yung owner kasama si Prince. Lilipat na, lalayo na. Ayaw ko pumayag, sabi ko akin nalang,"

 "After a few weeks pumayag na samin na si Prince. And I was very happy. Actually, lahat kami, the whole family, pati staff."
Bodyguard, on the other hand, noticed Prince getting a lot of tender loving care from his now home, so he decided to follow his bud for good there.
"And just last November, bumalik si Bodyguard. Slowly nagpapahawak na din siya. He would eat same time with Prince until okay na din siya, nagpapalambing na din,"

"So we put collars to identify na may owners na sila—and kami 'yun."
Based on the report, the Acobs rewarded the dogs' dependability at the station by giving them their own employee IDs. This was a move inspired by the stray dog named Tucson Prime, who recently went viral after a Hyundai dealership in Brazil adopted him as a car consultant and gave him his badge.
"Then, I saw the post sa Hyundai and ginaya ko 'yung ID and made them ambassadogs of Petron Lumangbayan,"

"During the day they eat and play and sleep in the office or Petron Shop until the night. But after closing at 10 p.m., it's as if they know that they need to watch over the station with our security guard who takes care of them whenever we go home,"
What do you think of this report? How will you react to this? Let us know more about it in the comments below.

READ ALSO: US Nears 500,000 Coronavirus Deaths Despite Decline Of Cases
Check out our latest news at philnews.ph or in our following social media pages
Facebook: /PhilNews
Twitter: @PhilNews247
Instagram: @philnewsph