My Love Is Like To Ice – Full Text Of The Poem By Edmund Spenser
MY LOVE IS LIKE TO ICE – We are going to read the full text of the poem My Love Is Like To Ice which was written by Edmund Spenser.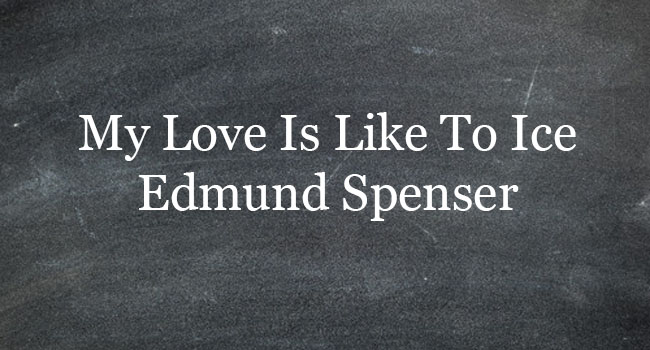 As mentioned above, this was written by English poet Edmund Spenser.
Spenser was born in 1552 who is best known for the epic poem and allegory The Faerie Queene. He is also known as the premier craftsmen of nascent Modern English verse.
Some of his works include Ice and Fire, Prosopopoia : or, Mother Hubbards Tale, Iambicum Trimetrum, and this poem.
Here is the full text of the poem uplifted from AllPoetry:
My love is like to ice, and I to fire:
How comes it then that this her cold so great
Is not dissolved through my so hot desire,
But harder grows the more I her entreat?
Or how comes it that my exceeding heat
Is not allayed by her heart-frozen cold,
But that I burn much more in boiling sweat,
And feel my flames augmented manifold?
What more miraculous thing may be told,
That fire, which all things melts, should harden ice,
And ice, which is congeal'd with senseless cold,
Should kindle fire by wonderful device?
Such is the power of love in gentle mind,
That it can alter all the course of kind.
READ ALSO: Not Waving But Drowning – Full Text Of Poem By Stevie Smith