PH Ranks 2nd Highest In Number Of COVID-19 Cases Based On Study
PH 2ND HIGHEST CASES OF COVID-19 – According to Johns Hopkins University, the Philippines ranks 2nd highest in COVID-19 cases.
The ranking was based on the number of cases among major South East Asian Countries like:
Vietnam
Singapore
Thailand
Indonesia
Malaysia
Furthermore, along with having the 2nd highest COVID-19 cases, the Philippines also had the lowest number of recoveries. Based on the graph by the researchers, Malaysia ranked 1st in the highest number of cases. However, they also have the highest number of recoveries.
Currently, Vietnam has the lowest number of coronavirus cases with 251 infections. Meanwhile, 123 of those cases have already recovered from the virus.
Singapore on the other hand, have 1,481 cases of COVID-19. Of that number, 6 have died while 377 have recovered. Likewise, Thailand had 2,258 cases with 27 fatalities and 888 recoveries.
Furthermore, Indonesia had reported the most numbers of deaths between the countries with 221 fatalities. However, among its 2,738 cases, 206 have already recovered.
Now, ranking 2nd, the Philippines had reported around 3764 coronavirus cases. Of this number, 177 have succumbed to the virus. Meanwhile, the number of recoveries stands at 84, the lowest in the list.
Lastly, Malaysia, even with the highest number of cases, also had the highest number of recoveries. As of writing, the country had reported around 3963 cases of COVID-19.
Moreover, Malaysia had reported over 1,321 patients recovering from the deadly disease with only 63 fatalities due to the virus.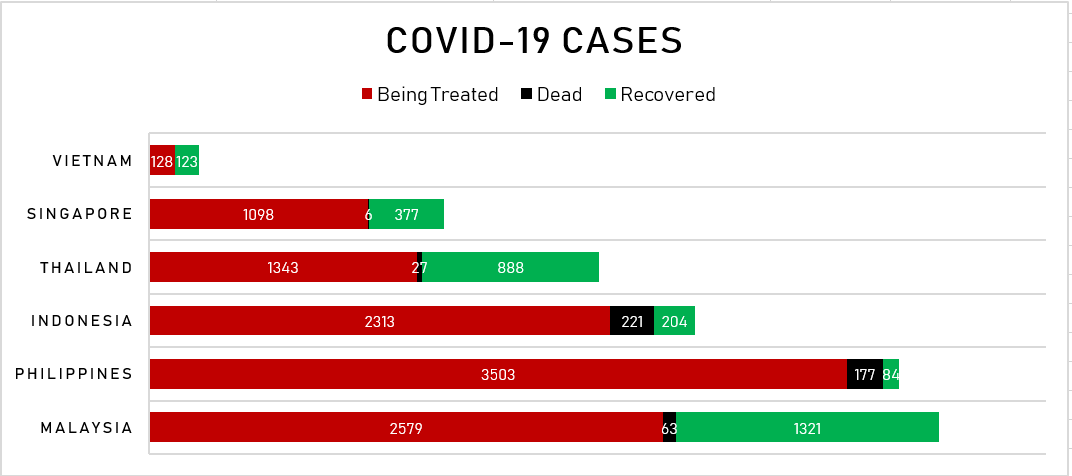 Worldwide, there are currently over 160,000 cases of COVID-19. Along with this, the number of deaths due to the virus had rose to 95,752. Meanwhile, the number of global recoveries had climbed to 356,952.
Like this article? READ ALSO: Duterte Sees Coronavirus Crisis Could Linger In Philippines For Two Years
comment(s) for this post "PH 2nd Highest Cases Of COVID-19, Lowest Recoveries – Johns Hopkins". Tell us what you think abut this post by leaving your comments below.