Food Aid Prepared As Lockdown Against COVID-19 Begins
COVID-19 – Most villagers in provinces are more worried of their shortage of foods as they were urged to stay home due to the Luzon-wide community quarantine.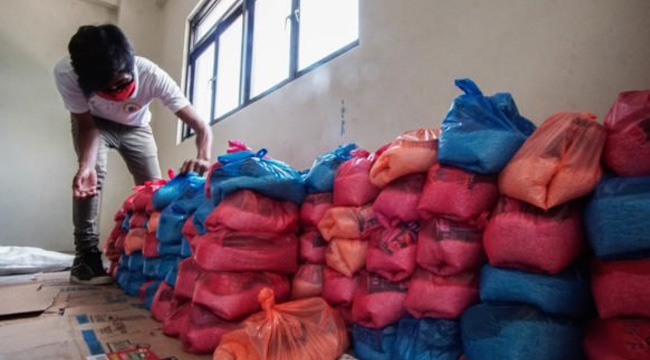 According to Inquirer, a resident of Olongapo City said that what could kill them is the shortage of food and not the virus itself.
"It's not the virus that will kill us but the shortage of food. Many of us will lose our minds because of this unrest,"
Some individuals began inquiring from their barangay officials about the government's plan to feed them for a month while the Luzon-wide enhanced community quarantine is in effect.
Department of Interior and Local Government secretary Eduardo Año ordered all local governmnt units in Luzon, especially barangay councils, to provide for their constituents' needs during the quarantine.
Año added that checkpoints stationed by the Philippine National Police, the Armed Forces of the Philippines, the Philippine Coast Guard, and the Bureau of Fire Protection would no longer be fixated on the entry or exit points of Metro Manila since the quarantine covered the entire Luzon
"This is really a total lockdown. Enhanced community quarantine is a medical term which is hard to understand. So for everyone to easily understand, [this is a] total lockdown. Everyone must stay in their homes, even up to 30 days, to wipe out the virus,"
As per the report, in Pangasinan, Bued village chair Carlito Dion of Calasiao said that providing the needs of all residents would be hard since more than 100 PUMs (persons under monitoring) were listed in their community. Among those were from the capital.
Meanwhile, Pampanga Gov. Dennis Pineda met with farmer's cooperatives and associations which ggreed to sell their products within the province.
Mayors in the province also intensified their price monitoring and control in municipal public markets.
In Benguet, the Office of the Civil Defense (OCD)-Cordillera assured to the public that there will be enough food packs for distribution to villages.
What do you think? How will you react to this? Let us know more about it in the comments below.
READ ALSO: Coronavirus Death Toll In Philippines Jumps To 17
Check out our latest news at philnews.ph or in our following social media pages
Facebook: /PhilNews
Twitter: @PhilNews247
Instagram: @philnewsph
comment(s) for this post "Food Aid Prepared As Lockdown Against COVID-19 Begins". Tell us what you think abut this post by leaving your comments below.