Thai Soldier on Mass Shooting Incident Killed a Family Because of Little Girl Crying
Thai soldier who went on a shooting rampage at a military base and a shopping mall killed a family because of a little girl crying.
Recently, a Thai soldier armed assault rifles went on a shooting spree at a military base and a shopping mall in Thailand on Saturday, killing at least 29 people, wounding 58, officials said.
According to the report of BBC News, Jakraphanth Thomma killed his commanding officer before stealing weapons from a military camp. The suspect continued his attack in a shopping Centre, where he is still believed to be holed up.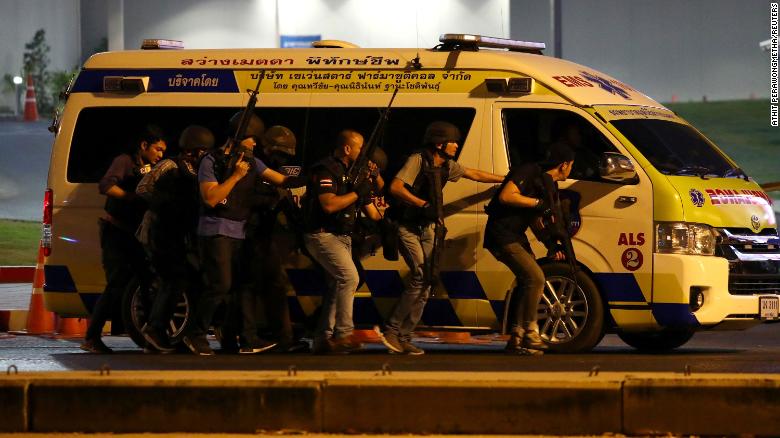 Meanwhile, a Facebook user named Yuwaret Oi uses his account to share about the Singaporean man's experience hiding from the shooter with his 11-year-old son, as World of Buzz reported.
According to the post, "People were in a panic. He and his child had to find a place to hide. The food court area in the basement was too open, there wasn't a safe place to hide. Therefore, they ended up hiding in a department store storage room and had met a family with a very young daughter. All in all, there were 10 people trapped together, with the lights off and door closed. They tried to be quiet though they were fearful, cold, uncomfortable as loud gunshots rang out from time to time."
One of the men hiding in the room encouraged the rest that they needed to find a new place to hide and that there was a control room a little deeper inside. When they started the move, the family with the little girl decided to stay put, the father told others "No, I'll be here with my wife."
Holed up in the second hiding place as a group of seven, the man then heard the young child of the family scream, followed by loud gunshots.
"There were lots of gunshots aimed at that door. I heard the killer kick the door to enter the room. His footsteps were just 2m away from us." 'Come here!' the killer said. The child cried and screamed but seemed to be taken far away. This was then followed by more gunshots. I smelled the discharge. I used to smell it when I was a soldier in the Singapore army."
Nine hours into his ordeal, in the wee hours of Sunday, the man and his son – along with others hiding with them – were eventually evacuated by Thai security forces. He was reunited with his Thai wife and elder son.
The soldier's lengthy standoff authorities last for almost 12 hours. He soon gunned down by the authorities after a raid led to a flurry of gunfire that killed him.
What can you say about this article? Just feel free to leave your reactions in the comment section.
For more news and updates, follow us on Twitter:@philnews_ph Facebook:@PhilNews and; YouTube channel Philnews Ph