Acts Marcelito Pomoy Will Be Facing In 'AGT: The Champions' Finale
MARCELITO POMOY – Here are the acts Pinoy pride Marcelito Pomoy will be facing in the "Americas Got Talent: The Champions" finale.
Pinoy singer Marcelito Pomoy was the champion of Kapamilya's talent show 'Pilipinas Got Talent.' He is known for his very unique voice. He can sing perfectly both male and female voice. In 2018, he appeared on "The Ellen DeGeneres Show."
The 35-year-old singer joined the talent show 'America's Got Talent: The Champions.' The crowd and the judges gave him a standing ovation after he sang the parts performed by Celine Dion and Andrea Bocelli in a rendition of "The Prayer."
Mr. Pure Energy Gary Valenciano said Marcelito Pomoy's performance made him emotional. "I was brought to tears because of this. Allow me to share this beautiful clip with all of you. MABUHAY ka," he said.
His wife Joan Pomoy said she didn't expect that the AGT judges and studio audience would give him a standing ovation. He definitely made all his countrymen proud.
Marcelito Pomoy once again made everyone proud as he stood on the international stage for the semi-finals. He sang Andrea Bocelli's 'Con Te Partiro.' Again, his incredible performance earned a standing ovation from the audience and the judges – Howie Mandel, Alesha Dixon, Heidi Klum, and Simon Cowell.
The Filipino singer advances to the grand finals of the prestigious competition. He promised to push himself to the limits as he attempts to become the winner of 'AGT: The Champions' second season.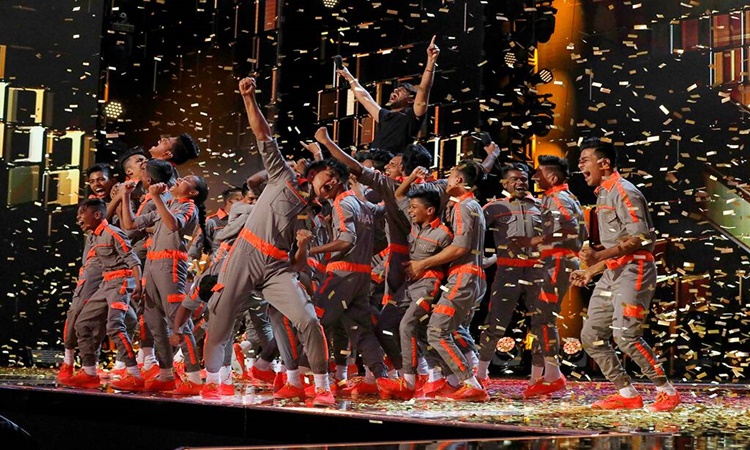 Aside from Marcelito Pomoy, also advancing to the finals were Duo Transcend, Tyler Butler-Figueroa, Hans, Sandou Trio Russian Bar, Alexa Lauenburger. They will be competing with four golden buzzer act V. Unbeatable, Silhouettes, Angelina Jordan, and Boogie Storm.
Here's a look at Marcelito's fellow finalist:
What can you say about this article? Leave your comments and reactions below.