2 Women Suspected Of Coronavirus Infection Gave Birth In Wuhan
CORONAVIRUS – Two women suspected of coronavirus infection successfully gave birth to healthy babies at hospitals in Wuhan, China.
The 2019 novel coronavirus (NCoV) that is originated in Wuhan, China has infected more than a thousand people and killed 26. The deadly virus is spreading rapidly and crossing borders.
Coronavirus has reached several countries including Japan, United States, Taiwan, Thailand, South Korea, and Singapore. The Philippine government decided to stop accepting direct flights from Wuhan amid threat.
A scientist said the famous bat soup in Wuhan, China could be the original source of the deadly virus. "The Wuhan coronavirus' natural host could be bats… but between bats and humans, there may be an unknown intermediate," he said.
In a previous article, a blogger from Weibo shared a footage of the situation of a hospital in China. It can be seen on the video that the corridors and lobby were stuffed with patients waiting for their doctors.
Because of the coronavirus lockdown, people were panic buying foods in the supermarkets. The shelves were empty and the prices have skyrocketed.
On the Twitter page of People's Daily China, they uploaded a heartwarming photo of a mother who is suspected of contracting the coronavirus gave birth to a healthy baby amid the outbreak.
In the caption, they said two women who may have the virus gave birth to a hospital in Wuhan, China. The two moms remain under medical treatment for suspected nCoV.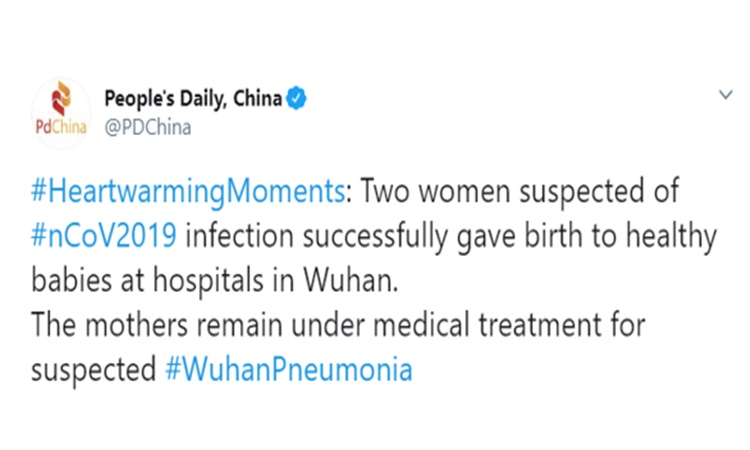 Netizens pray for the two women who recently gave birth in Wuhan, China. Here are some of their comments on the post:
@sneezypoowalsh2: "Prayers for the mothers and the babies."
@DaBoTG1: "Positive thoughts and prayers to the mum's and bubs."
@GerhardtJvdM: "I hope that the mothers and babies are safe!"
@PacerShark: "Great!, I pray everyone recovers."
What can you say about this article? Leave your comments and reactions below.
READ ALSO: Virologist Who Helped Fight SARS Says Wuhan NCoV Is 10x Worse
comment(s) for this post "Coronavirus: 2 Women Suspected Of nCoV Infection Gave Birth In Wuhan". Tell us what you think abut this post by leaving your comments below.