What Is Mayabang In English? (Answers)
MAYABANG IN ENGLISH – In this article, we will discover what the meaning of Mayabang is in English.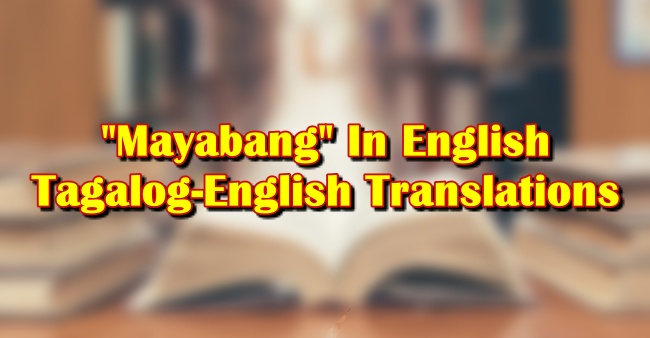 Mayabang is one of the most commonly used words in Tagalog. However, not many people know what its English translation is.
In the English language, "mayabang" could be described as "arrogant", "braggart", "conceited". Here are some example sentences.
Ang lalaking iyon ay mayabang.
Napakayabang mo naman, hindi mo naman pala kaya.
Mayabang talaga perssonalidad ni Peter.
Huwag ka dapat maging mayabang, mas mabuti pa na ikaw ay mapagpakumbaba.
Siya ay mayabang, pero may talento naman talaga.
In English, the sentences could be translated as:
That boy really likes to brag.
You like to brag but you can't even handle things by yourself.
Peter has a conceited personality.
It's better to be humble than to be arrogant.
He's really a show-off but has the talent to back it up.
Here are some other words to describe "Mayabang":
overly proud
boastful
haughty
huffish
vain
vainglorious
show-off
talks-big
airy
The word "mayabang" can be used in several contexts in the Tagalog language. It could be used to describe somebody who is a show-off or likes to brag.
In fights or heated arguments, you would also often hear the word being used. For example:
Ang yabang mo a? Gusto mo siguro suntikin kita diyan?
Huwag ka magyabang dito pare kung hindi mo gustong masaktan.
Nagyayabang pa talaga ang isang to. Gusto niya sigurong masaktan.
In English, this could be translated as:
You like to be a show-off? Maybe you'd like me to hit you instead?
Don't be arrogant here if you don't want to get hurt.
This guy actually talks big. Maybe he's asking for a beat-down.
Thanks for reading. We aim to provide our readers with the freshest and most in-demand content. Come back next time for the latest news here on Philnews.
Like this article? READ ALSO: Singkamas In English: Tagalog-English Translation Of "Singkamas"