Live Polling of Senatorial Survey "Pulso ng Mamamayang Pilipino 2019"
PULSO NG MAMAMAYANG PILIPINO – Here is a live polling of a senatorial survey for the midterm Election 2019.
The Election 2019 is almost here. It is only a few days left before the Filipino populace will exercise their right to vote once again. Local and national elections are set to be held on May 13, 2019.
Among the positions with the most number of candidates are the seats in the House of Senate. More than 60 candidates are vying for a senatorial seat in the upcoming midterm election.
Currently, campaign posters and other signage related to the upcoming poll can be seen everywhere in the country. A lot of senatorial candidates also have television campaign advertisements.
Undeniably, it is a struggle to choose only 12 among the many candidates offering their service. Have you already ponder on who will have your vote this upcoming Election 2019?
Philnews.ph has come up with a live polling of a senatorial survey entitled "Pulso ng Mamamayang Pilipino 2019". This is an independent polling in line with the pursuit of the site to know who really have the biggest chances of winning the senatorial seats.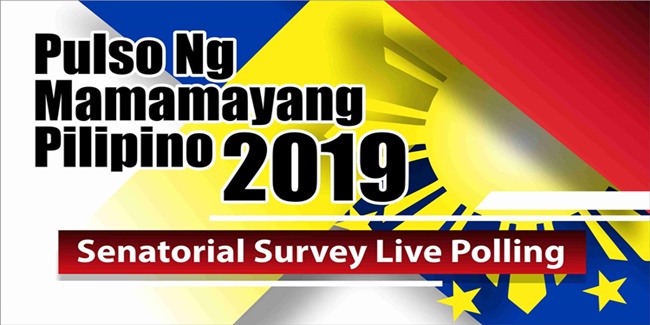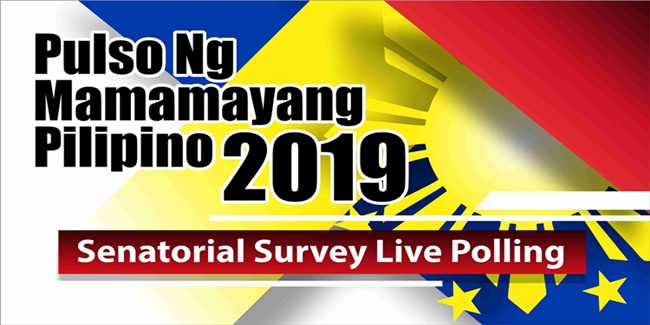 Listed here below are the names of the senatorial candidates for the Election 2019. You may follow these steps below to cast your vote:
Choose your bets for senators by clicking the box beside the name of the candidates. You may choose up to 12 candidates.
Once you're done, click "Vote" below to submit your vote. You can then see the standing of your bets in our polling.
The live poll is going to run for ten(10) days. Every voter is allowed to vote only once (maximum of 12 candidates). Feel free to share this article on social media so others can vote too.
Thank you for your time. May we have a peaceful Election 2019 and the voters be wise enough to choose carefully the deserving leaders of this nation.
comment(s) for this post "Pulso Ng Mamamayang Pilipino 2019 Senatorial Survey Live Polling". Tell us what you think abut this post by leaving your comments below.