List of Movies Showing Today, April 20, 2019, in SM Cinema
SM CINEMA – Here is a list of the movies that are showing today, April 20, 2019, in the different cinemas of the SM shopping mall.
Undeniably, a lot of Filipino people as well as foreigners in the Philippines are movie fanatics. Many are into watching films as a form of relaxation from school or work.
A lot of people consider seating on a movie chair for two hours and eating and drinking while waiting their much-awaited film the best reward at the end of the week.
Many people prefer watching movies in SM Cinema, the theater of the SM shopping mall. Usually, like today, April 20, 2019, the number of now showing movies that you can choose from won't fall below six(6).
Do you wish to know what are the movies showing in cinema today, April 20, 2019?
Currently, there are 19 movies that you can choose from. The list is a mixture of local and international films. You may purchase tickets at the counter before entering the cinema or you may also go for an advance booking online.
Here is a list of the movies that are showing today, April 20, 2019, in SM Cinema: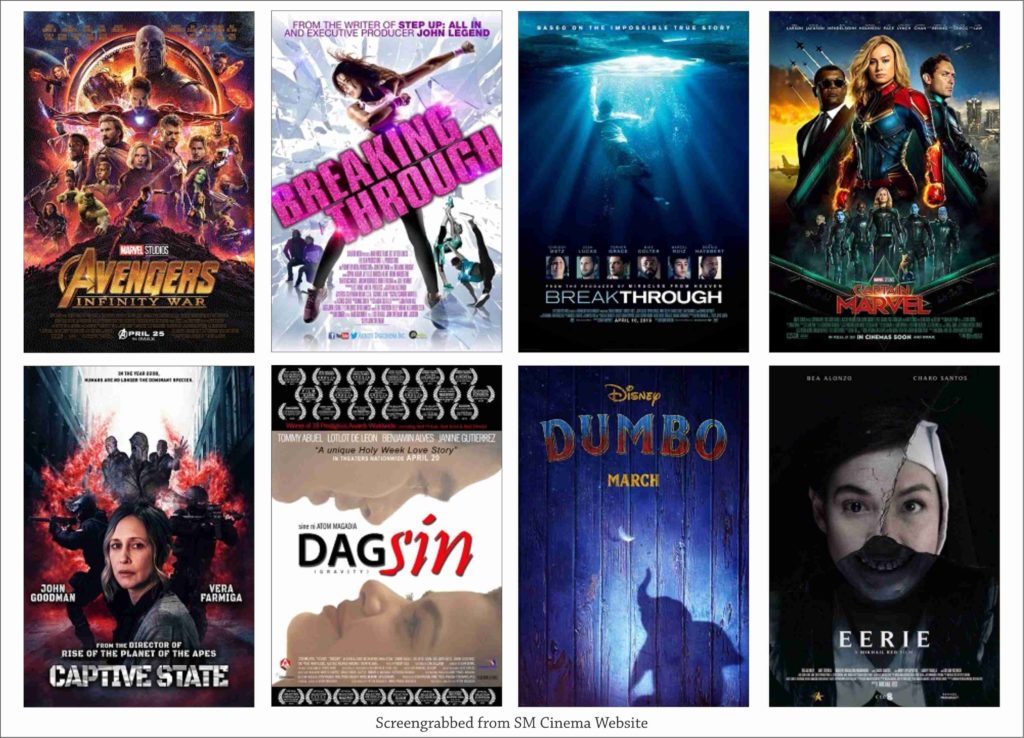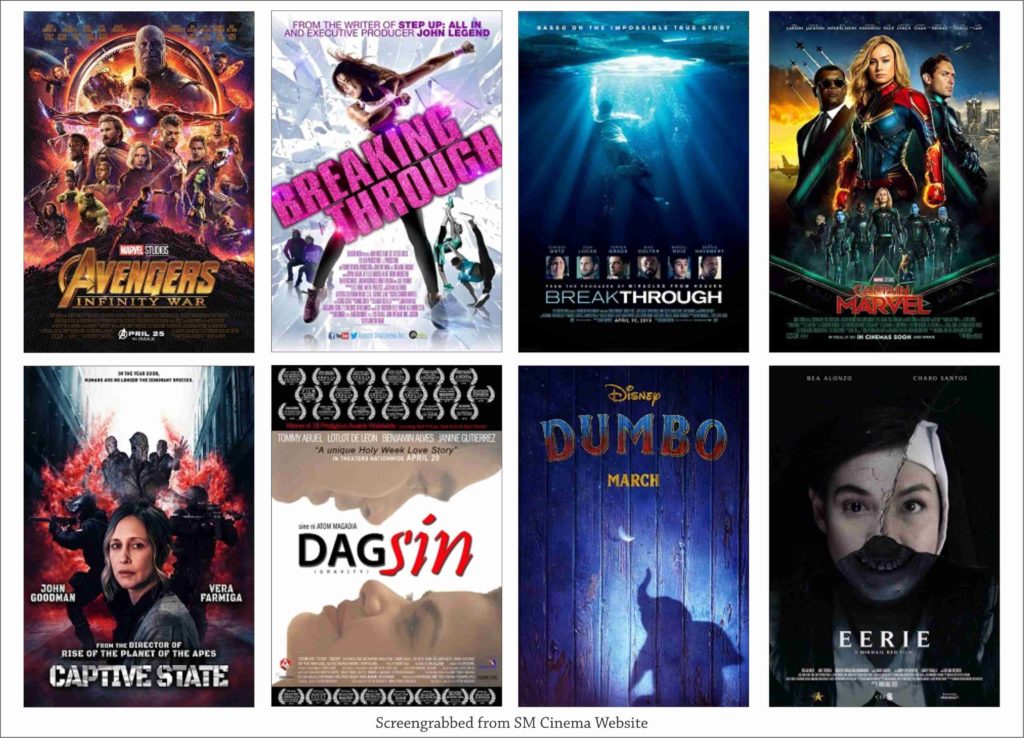 Avengers: Infinity War
Rated PG
Cast: Robert Downey Jr., Chris Hemsworth, Mark Ruffalo, Chris Evans, Scarlett Johansson
Directors: Anthony Russo, Joe Russo
Breaking Through
Rated PG
Cast: Sophia Aguiar, Jordan Rodrigues, Robert Roldan
Director: John Swetnam
Breakthrough
Rated PG
Cast: Josh Lucas, Mike Colter, Topher Grace
Director: Roxann Dawson
Captain Marvel
Rated 13
Cast: Salma Hayek, Bridget Moynahan, Alec Baldwin
Director: Fred Wolf
Captive State
Rated PG
Casts: Vera Farmiga
Director: Rupert Wyatt
Dagsin
Rated 13
Casts: Tommy Abuel, Lotlot De Leon
Director: Atom Magadia
Dumbo
Rated G
Casts: Michael Keaton, Eva Green, Colin Farrell
Director: Tim Burton
Eerie
Rated 13
Casts: Bea Alonzo, Charo Santos-Concio
Director: Mikhail Red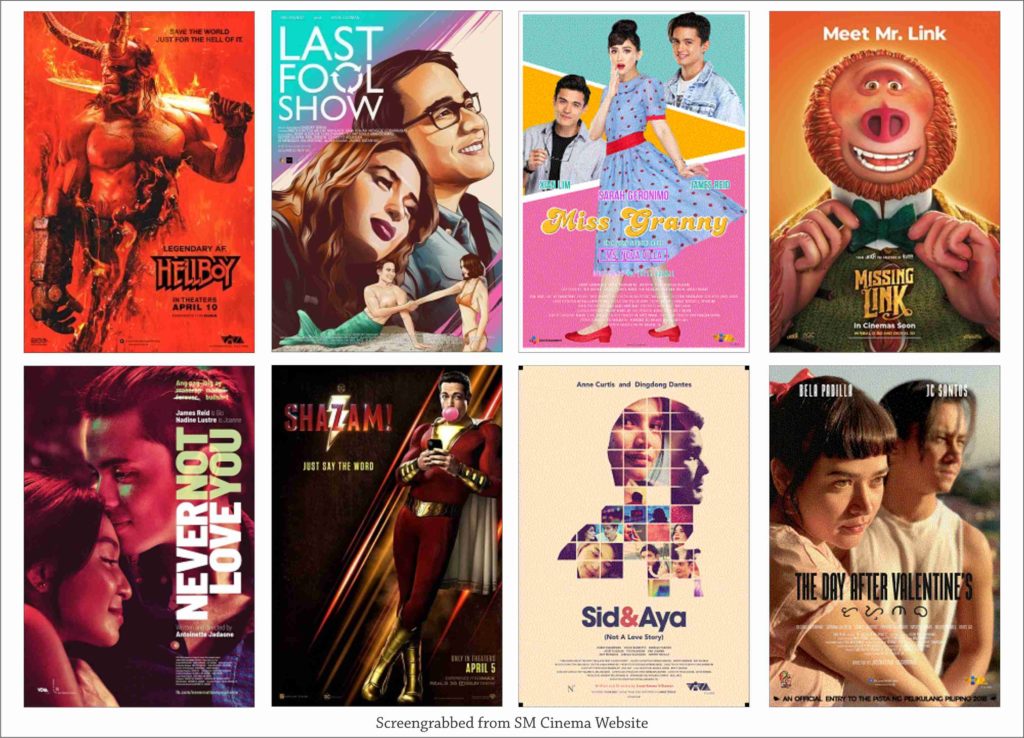 Hellboy
Rated 13
Cast: David Harbour
Director: Neil Marshall
Last Fool Show
Rated PG
Casts: Jm De Guzman, Arci Muñoz
Director: Eduardo Roy Jr.
Miss Granny
Rated PG
Casts: Sarah Geronimo, James Reid, Xian Lim
Director: Joyce Bernal
Missing Link
Rated G
Cast: Zach Galifianakis
Director: Chris Butler
Never Not Love You
Rated PG
Casts: James Reid, Nadine Lustre
Director: Antoinette Jadaone
Shazam
Rated PG
Casts: Zachary Levi
Director: David F. Sandberg
Sid and Aya
Rated PG
Casts: Dingdong Dantes, Anne Curtis
Director: Irene Villamor
The Day After Valentines
Rated PG
Casts: Bela Padilla, JC Santos
Directors: Jason Paul Laxamana

The Music of Silence
Rated G
Casts: Andrea Bocelli
Director: Michael Radford
Through Night and Day
Rated PG
Casts: Alessandra de Rossi, Paolo Contis
Director: Veronica Velasco
Two Tails
Rated PG
Casts: Victor Azeev, Natalia Nilova
Director: Irina Kireeva, Sean Thomas, Anastasia Danilova, Jonathan Salway
READ ALSO: MOVIE TICKETS: Purchase Cinema Movie Tickets In Advance Online
comment(s) for this post "SM CINEMA: List Of Movies Showing Today April 20, 2019". Tell us what you think abut this post by leaving your comments below.