56-Year-Old Woman Cried In Pain As She Was Being Nailed To A Cross
56-YEAR-OLD WOMAN – A 56-year-old woman was nailed to a cross as a part of the reenactment of the Passion of Christ.
Holy Week activities involve religious ceremonies, rites and rituals performed by believers annually. Different presentations and rites are carried on different days of the Holy Week.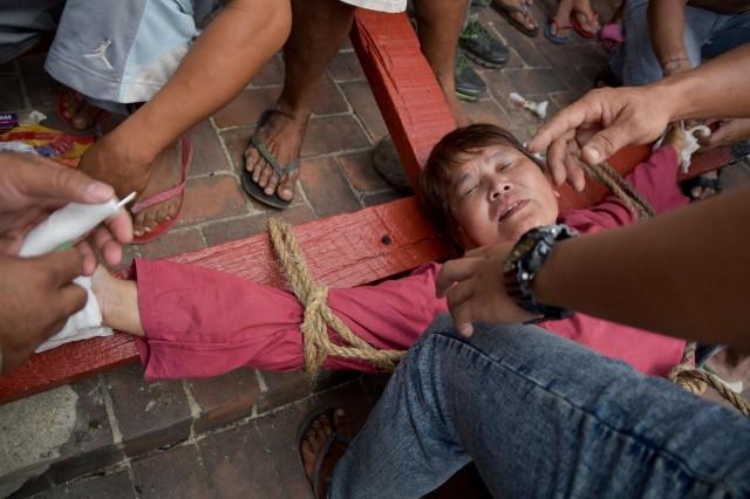 Read here about the things you should know about Good Friday.
In Bacolor, Pampanga, the reenactment of the "Passion of Christ" is different from famous crucifixion display in Cutud, San Fernando.
Crucifixions in Cutud are considerably theatrical. They use lapels and mics to deliver the scripts more audibly.
This was based on an article from GMA News. According to the article,
Elsie only has one script and it's a real player. The event of Elsie's crucifixion is only attended by the family or relatives of "Kristu."
It is a solemn ceremony intiated with chants and prayers. It is also guided by self-flagellants.
The GMA reporter felt 'unwelcomed' in the event saying that the "Kristus" are anxious.
When asked why, one of the relatives told the reporter that because of the previous article about Elsie, they have read comments that they did not like.
Especially the ones saying that they are only doing it for show. The relative revealed that the event is an honest ritual for Elsie's mother who had her legs impaired due to an unknown disease.
The sincerity can be sensed as Elsie did not want to talk about the crucifixion and just wanted to go out and do what she does.
When the knives were plunged into her palms she broke into tears and screamed her mother's name.
She expressed her love and sacrifice for her mom in her statement:
"Oh Ima ko… Oh Ima ko… Kaluguran da ka."
"Oh mother, my mother, I love you."
That is all there is to it, we'll post updates as soon as we got them.
comment(s) for this post "56-Year-Old Woman Nailed To A Cross On Good Friday". Tell us what you think abut this post by leaving your comments below.