Open Letter of Davao City Mayor Sara Duterte for Sen. Leila de Lima
SARA DUTERTE – Presidential daughter and Davao City Mayor Sara Duterte wrote an open letter for Senator Leila de Lima.
One of the staunch critics of President Rodrigo Roa Duterte is Sen. Leila de Lima. The latter is currently detained over her alleged involvement in the drug trade in the Philippines.
The feud between the President and the Senator is no secret to the public. There were several times when they exchanged statements on national television.
Recently, detained Senator Leila de Lima is engaged in an issue with another Duterte – Presidential daughter and Davao City Mayor Sara Duterte. It was after the former criticized the latter's statement.
Mayor Duterte-Carpio supports Hugpong ng Pagbabago for the Election 2019. She is present in their campaign rallies in several venues.
Amid the ongoing campaign for the upcoming election, Sen. De Lima criticized the statement of the Presidential Daughter that the opposition should not be the one who will set the qualification for a candidate and that honesty is not an issue as it is not a requirement for candidacy.
The detained Senator previously expressed that the Davao City Mayor along with Presidential Spokesman Salvador Panelo represent is wrong.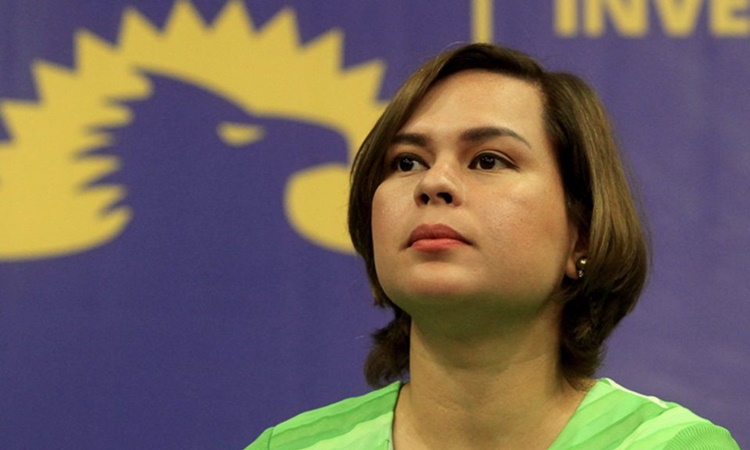 In her open letter for Sen. Leila de Lima based on Manila Bulletin, Davao City Mayor Sara Duterte defended her statement and stressed that "Black Hole" candidates should not attack other candidates in that manner.
The Presidential Daughter also dared the Senator to come up with a law adding honesty as a requirement for aspiring candidates for public posts. Here is the full open letter based on the post: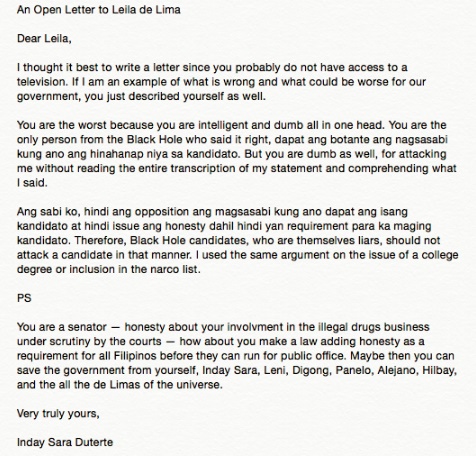 As of this writing, the Senator has yet to react to the open letter for her. We'll keep you posted for updates.