Translate English To Tagalog – What is the Tagalog Translation of Modest?
TRANSLATE ENGLISH TO TAGALOG – Here is the Tagalog translation of the English word "Modest".
Many of us know may encounter the English word modest in several books or hear it from speeches of guest speakers in certain events. However, undeniably, it is one of the description which has a not-so-well-known meaning.
What does "modest" mean?
The word modest mean humble or one who does not look much of himself or herself. It can also be referred to as "lowly" or "inferior" in certain cases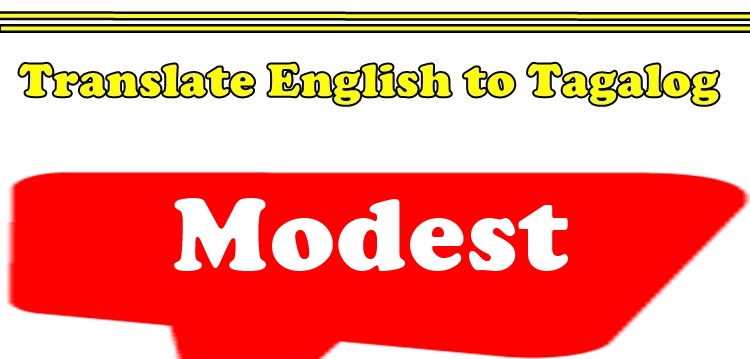 What is modest in Tagalog?
After knowing about the exact meaning of the word, surely many of us want to know the Tagalog counterpart of the word modest.
Translate English to Tagalog
Modest = Mababang-loob
Examples of sentences using the word modest:
1. Jamie is really a modest type of person that is why everybody likes her.
2. The teacher's being modest is a very nice example to the pre-schoolers.
3. Before you teach Nathan to strive hard, teach him first to be modest.
Mga halimbawa ng mga pangungusap na gumagamit ng pariralang mababang-loob:
1. Hindi talaga matawaran ang pagiging mababang-loob ni Ramil.
2. Ang pagiging mababang-loob ni Mona ang nagustuhan ni Berting sa kanya.
3. Sadyang mababang-loob lang talaga si Diego kaya hindi na niya pinatulan ang mga pasaring ni John.