Catriona Gray's Victory in Miss Universe 2018 Predicted by Psychic 2 Years Ago
The Filipino-Australian Catriona Gray's victory in Miss Universe 2018 has been already predicted by a certain 'Psychic' in 2016.
Catriona Gray has been one of the most discussed personalities not only in the Philippines but also in different countries across the globe after she was crowned as the new Miss Universe.
The Pinay beauty queen bagged the Miss Universe 2018 title because of her stunning beauty, impressive body figure, and intelligence.
The entire Philippines is now celebrating the victory of Catriona Gray who bagged the fourth Miss Universe crown.
In 2016, Psychic Gurmeet made a controversial prediction declaring the victory of Catriona Gray in the international pageant on the website "fearlessprediction.blogspot.com".
Gurmeet predicted that a certain beauty contender with pleasing personality would fail on Miss World 2016 because it was not yet her time.
However, the psychic predicts that the contestant with the name connected to 'P or C' will win in another time and another event.
"One is a pleasing personality who will think that she will be a winner but the fact will be that she will win another time at another event and somewhere else and not this time."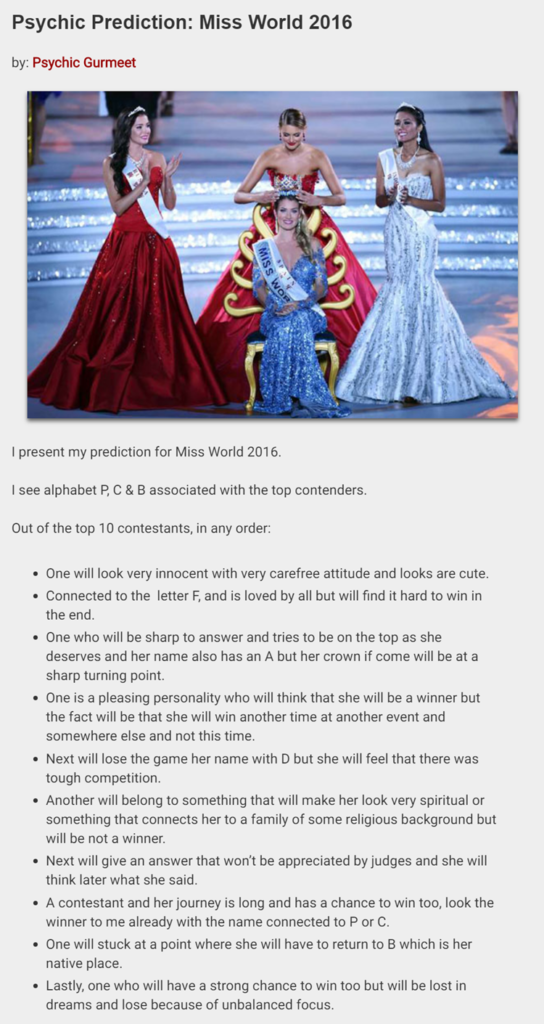 It can be remembered, that Catriona has also joined Miss World 2016 but failed to bag the crown and luckily wins the competition in Miss Universe 2018.
What can you say about this? Just feel free to leave your comments and reactions to this article.