President Duterte's Common-Law Wife Honeylet Avanceña Had P187.6M In Bank Transactions, Trillanes Says
Senator Antonio Trillanes released a document stating that President Rodrigo Duterte's common-law wife had P187.6M million in bank transactions.
On Thursday (February 16, 2017), Trillanes dares again the president to clear the accusations against him for the alleged P2.4 billion in his bank accounts. The senator also accused that Mr. Duterte had billions of pesos in his bank accounts, which was not disclosed from his Statement of Liabilities, Net Worth, and Assets.
Trillanes accused Duterte of his alleged ill-gotten wealth during the campaign period for the May 2016 elections. The senator tried to use the issue as a threat and weapon against the former Davao City mayor, but Duterte was still able to win the presidency.
The senator claim that millions of pesos were deposited to the bank accounts of Davao City Mayor Sara Duterte –Carpio, Vice Mayor Paolo Duterte, and Sebastian Duterte. Bank of the Philippine Island' Davao Main Branch, the Philippine National Bank's Bangoy branch, and the Metropolitan Bank and Trust Company's Davao branch.
Duterte's common-law wife Cielito "Honeylet" Avanceña bulk deposits show 29 separate transactions, according to the document released by Trillanes. Credit memos amounted P33.1 million in 12 years, P15.24 million cash bills purchase, P8.8 million check deposits, and P31.15 cash deposits.
In 2015, the largest amount in the transactions was on "inter-account transfers." Avanceña was the mother of Veronica, the president's youngest daughter. Mr. Duterte first met her in 1988.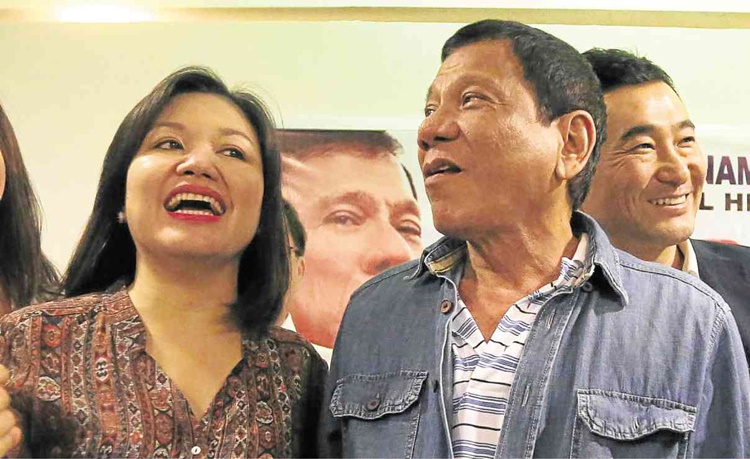 Trillanes' documents were stating that Avanceña had million pesos' bank transaction since July 2004 up to March 2016. Avanceña explained on a report that she's not financially dependent on Duterte because she owns a Mister Donut Franchises, catering services, and meat shop.
Her nine transactions listed in the document amounting to P6.45 million was from his deal with San Miguel Incorporated through Metropolitan Bank and Trust Company's Davao branch.
comment(s) for this post "Trillanes: Duterte's Common-Law Wife Had P187.6M In Bank Transactions". Tell us what you think abut this post by leaving your comments below.