From a prim and proper poise, an Ilongga beauty queen has made a record in a totally opposite field, Martial arts Jui-Jitsu.
All eyes have been glued to the on-going 2016 Olympic Games in Rio de Janeiro, Brazil without knowing a former beauty queen has been banging bodies down in a Jui-Jitsu competition in the United States.
Miss Iloilo Dinagyang 2004, Kimberly Custodio, gained the moniker "Armbar Queen" from her teammates since 90 percent of her victories were finished with an arm bar submission.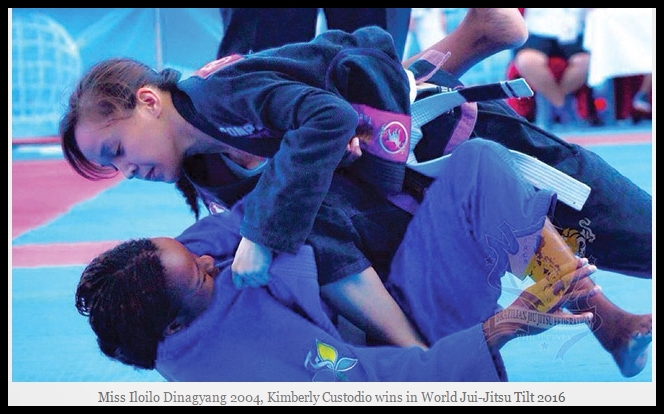 This made her bag the silver medal in the World Jui-Jitsu Federation World Championship held in Long Beach, California recently.
Kimberly came from Oton, Iloilo where she learned and got interested in sports at a young age of 11.
"I like any kind of sport since I was young. I love outdoor activities and whatever that keeps me out of the house." she said.
It was in 2014 when Kimberly became fascinated with physical and more extreme kind of sports like Jujitsu.
Jiu-jitsu or Jujitsu is a martial art and combat sport that teaches a smaller person how to defend himself against a larger adversary by using leverage and proper technique.
Kimberly said that her fear of being molested or being unable to defend herself from 'harmful' elements in Metro Manila encouraged her to get into contact sports like Jujitsu.
"The life in Manila actually got me into contact sports. Many girls are being molested and so much crimes happen in Manila. Even my closest friends were victimized by those criminals. So I don't wanna be one of the victims," she said.
In her recent fight, the 107-pound Ilonggo underwent a rigorous training. Kimberly trained three times a day, six days a week.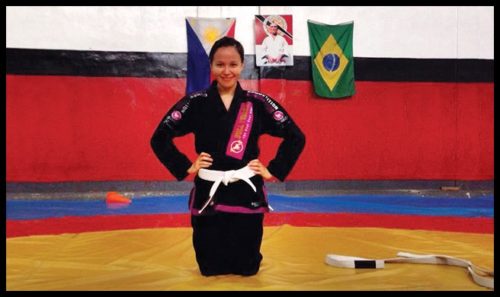 "With just a little food that I eat, and the intensity of training I'm doing everyday can be really physically and mentally draining," she said.
But despite her fame in the field of Jujitsu, Kimberly said she has to limit her involvement to sports to concentrate on building her own family.
"I might stop competing for a while and concentrate on 'real life'. I mean, I'm already approaching 30s so… maybe I wanna start building my own family? I'm not sure! This sport is a lifetime pursuit," she said.
"I'm sure I won't get tired of this but for now, I might just do a couple more competitions and after that, I will make this sport as a hobby," Kimberly further said.
But as she is slowing down, she advises those who also want to get into sports and Martial arts to give time to rigorous training and never give up until they win.
She said, "It's gonna be tough and painful. It takes so much efforts, discipline and patience. Just train hard! Everything is gonna be worth it when you stand at the world's podium."
Kimberly is now a holder of 8 gold, 4 silver and 5 bronze medals in the shelf.