Child Studying On The Street In Davao Goes Viral
Photos of a child studying on a road goes viral after being posted by a certain Brian Parantar on Facebook, who saw the child himself.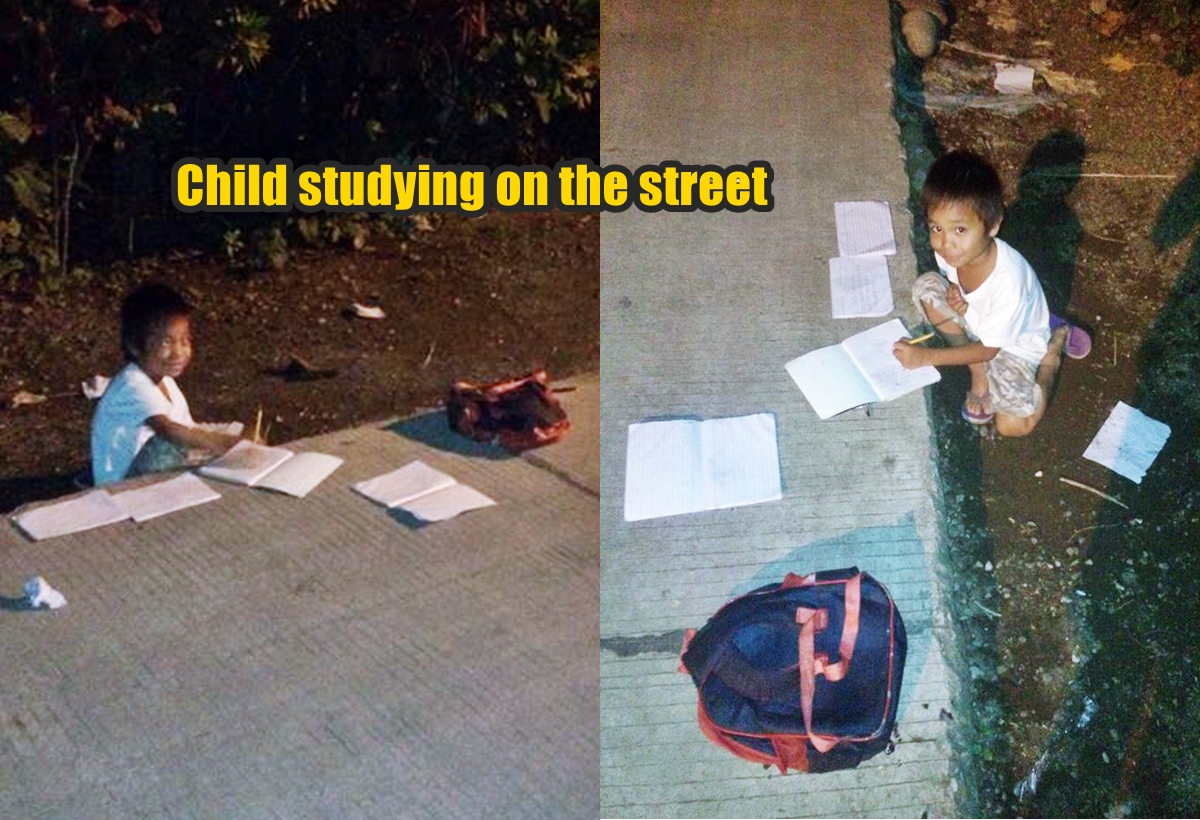 In a lengthy description on his post, Parantar narrated his experience after encountering the still unknown child in the street. According to him, while he is on his was to Romandiyas in Calinan, Davao City he saw a child studying on the street that, according to him, warmed his heart.
Parantar narrated that the child has been doing his best studying and doing his assignments as well even though the child was on the street just depending on the street light because of poverty. He added that the child's family cannot afford to having electricity in their home.
"Samtang palakaw ko padulong sa romandiyas sa Calinan. Nakita ko ning bata nga nag study sa dalan. Gikumot jud akoang kasing kasing pagkakita sa iyaha. Naningkamot siyag study og himo sa iyahang mga assignments kilid sa dalan kay naa may poste og tungod sa kawalad-on og kapobrehon dili sila ka afford kapataud og suga."
The child, as Parantar said, told him that he will be doing striving on his studies and said that he is already in Grade 2.
"Niana pa siya sa akoa nga "maningkamot man gud kog eskwela ya, Grade 2 nako ya".
Parantar was touched on what the child have said knowing that on the child's state, unlike other children playing in streets, the said child is striving for his future. Parantar also expressed how he admired the child on his will to study even with the lack of needed materials unlike others.
"Kahilakon ko naminaw sa iyahang gi ingon. Kay sa ing ani man gud na estado sa bata kay gadula pa, gakiat pa sa dalan, pero kani siya kay lahi jud naningkamot para sa iyang kaugmaon. Bilib kaayo ko aning bataa ni kay naay ubang bata no nga kompleto og materials, naay suga ang balay pero dili maka gahin og oras para sa ilang eskwela."
Before he went away, Parantar said that the declared blessings for the child to be blessed by God. He believes that Lord has a big plan for the child.
"Before I went away, I declared blessings sa bata nga paboran og panalinganan siyag maayo sa Ginoo. Niana pud siya sa akoa paghawa nako, "Salamat ya". Nasayod jud ko nga ang Ginoo mutabang og naay dakong plano aning bataa ni."
Lastly, he urged other children to see this as an inspiration to their studies.
"Sa mga bata nga adunahan nga naay kaya, tan awa kani nga inspirasyon sa inyong pag eskwela. God Bless. ❤"
The identity of the child was still unknown.
comment(s) for this post "Photo: Child Studying On The Street Goes Viral". Tell us what you think abut this post by leaving your comments below.