The first family of the Philippines, the Duterte Family arrived at the Ninoy Aquino International Airport (NAIA) on board Philippine Airlines flight PR1812 from Davao City to attend the highly anticipated inauguration of Pres. Rody Duterte as the 16th President of the Republic of the Philippines.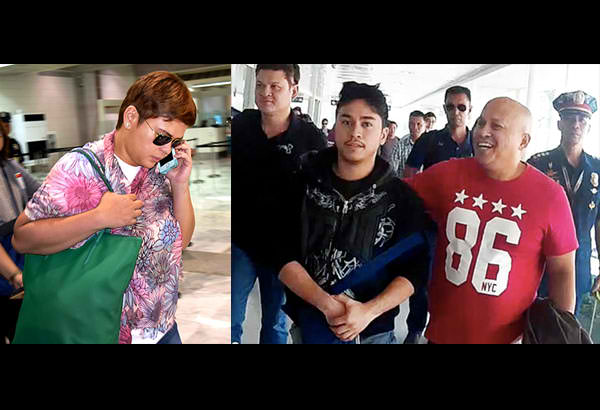 Based upon the PAL passenger manifest, the Duterte family members includes the following, Mayor Rody's wife, Elizabeth Zimmerman, and their children Inday Sara Duterte-Carpio, Vice Mayor Paolo Duterte together with his children.
Aside from Inday Sara and Paolo, Elizabeth Zimmerman have another child with Pres. Rody named Sebastian "Baste" Duterte.
The first to touched down at NAIA was Duterte's wife Elizabeth Zimmerman together with Vice Mayor Paolo Duterte and the grandchildren of Duterte and Zimmerman. Later in the afternoon the only daughter of Duterte and Zimmerman, Davao City Mayor Sara Duterte-Carpio also landed at NAIA.
Based upon the plans revealed recently by the Duterte camp, only 150 guests have been invited but according to some insiders who are in charge of preparations more than 600 guests were already included in the list of visitors.
The Duterte camp also noted that the inaugural menu during the Duterte inauguration includes mongo soup, durian tartlet, banana fritters, pan de sal and kesong put, longganisa and lumpiang ubod, while for beverage only mango and dalandan juice.
Aside from the first family of Pres. Rody Duterte, his common-law wife Honeylet Avanceña, will be present also during the inauguration of the first president of the Philippines from Mindanao. Veronica Duterte, the youngest child of Duterte with Avancena will hold the Bible to be used in the oath-taking ceremony. According to Duterte's camp the Bible belonged to Duterte's late mother, Soledad.
Lisette Marque, organizing committee member, said the team was sticking to Pres. Rody Duterte's order to keep things simple.
comment(s) for this post "Duterte Family Arrives at NAIA for Pres. Rody's Inauguration". Tell us what you think abut this post by leaving your comments below.