A viral video of Russian President Vladimir Putin is currently making the rounds online featuring how the Russian leader demonstrated his political will among the multinational corporations running in his country. The Russian President was seen visiting a factory and was not satisfied with what he saw and ordered an immediate meeting.
See Also: Supporters Defends Mayor Duterte's Statement against US Envoy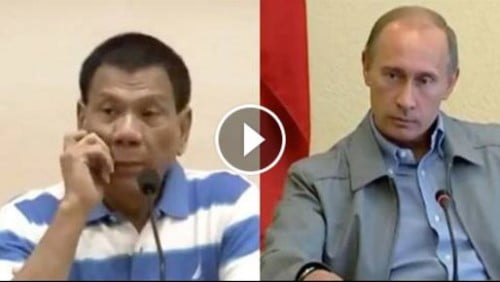 The video of Vladimir Putin's way of handling problems in his country was then compared to Davao City Mayor Duterte's style of leadership in Davao City, which is now considered as one of the most prosperous and safest city not only in the Philippines but also worldwide.
The video of Mayor Duterte and Russian President Vladimir Putin was originally uploaded by Facebook Page MCMC, a well-known Duterte supporters and was then re-uploaded to the official Facebook Page of Mocha Girls which has more than 2.8 million followers.
In the caption of the video posted by Mocha Girls they even quote Lee Kuan Yew who said "The Philippines Needs More Of Discipline Than Democracy."
Watch the Viral Video Featuring Similarities of Duterte & Putin: