Filipino-American point guard of the Los Angeles Lakers, Jordan Clarkson revealed to the media that he is making an effort in seeking FIBA's approval for him to suit up for the Philippine national basketball team, Gilas Pilipinas in the upcoming FIBA Olympic Qualifying Tournament which will be hosted by the country in July 2016.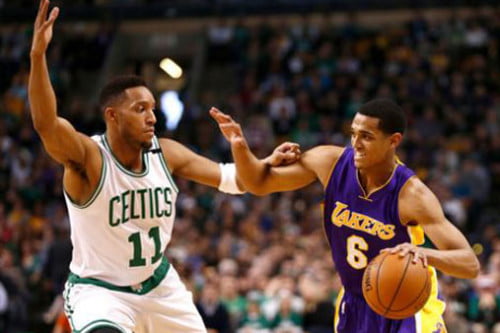 Jordan Clarkson reiterated his desire to play for the Philippines and be able to help the nationals qualify for the Rio Olympics in August 2016. In an interview with Lakers.com, Clarkson revealed that "We're working on it right now, actually," when asked by Mike Trudell.
The 23-year-old Filipino-American, whose mother is a Filipina, said in a recent interview that "Gotta go through some stuff with FIBA. We're trying to make sure that happens… hopefully the timing is right, and I get the chance to do that (join Gilas)."
Meanwhile, the Samahang Basketbol ng Pilipinas (SBP) executive director Renault "Sonny" Barrios previously said they have yet to get the green light on the inclusion of Clarkson in Gilas Pilipinas' roster. But he assured that they will take the necessary steps to get the 6'5" NBA sophomore on Gilas' line-up.
During previews interviews and visits in the Philippines the NBA's All Rookie Team member, Clarkson revealed his intentions to help the Philippines and he even joined the training camps of Gilas as well as visited some basketball camps in the country.