Filipino-American fighter Ana Julaton was defeated by Russian fighter Irizan Mazea via unanimous decision on Friday night in one of the main cards of the ONE FC: Spirit of Champions at the Mall of Asia Arena. The former boxer was defeated in front of the Filipino crowd compatriot.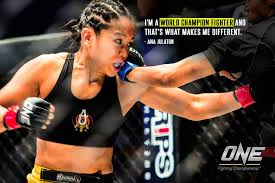 Ana Julaton suffered her first loss in front of the Filipino audience and dropped her record to 2-2 while the 32-year-old Russian fighter Irina Mazepa improved to 2-0 in her MMA career.
The Russian fighter spoiled Ana Julaton's return to the ring after a one-year hiatus by dominating the former world boxing champion in three rounds to claim a decision victory.
All the three cageside officials unanimously favored the Russian fighter, Irina Mazepa. Ana Julaton's intention was clear in the first round as she tries to score her first takedown in the bout, but the Russian fighter was successful in holding her posture along the cage's fence while looking to latch a standing guillotine choke on two occasions.
Watch the Highlights Video of Julaton vs. Mazepa:
https://www.youtube.com/watch?v=fmyRGL-yKMU