Singer Demi Lovato is set to perform for her Filipino fans for the second time tonight at the SM Mall of Asia Arena.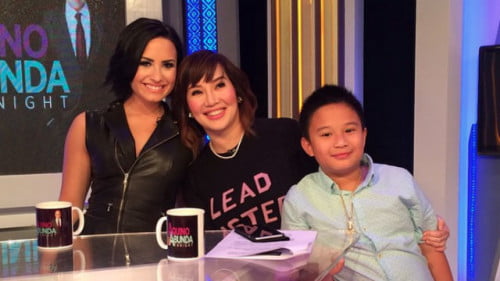 (Demi Lovato with Kris & Bimby. @aatofficial Intagram Photo)
In an interview on Aquino and Abunda Tonight aired April 29, the international performer said she can't wait to meet her fans.
Lovato even spoke about the warm welcome she received from her fans.
"Everybody always makes me feel welcome here," she said.
The singer also opened about Olympian Bruce Jenner who recently spoke about his gender transition to whom Lovato dedicated her performance "Warrior" during one of her concerts.
"I thought it was so brave [of him coming out about his decision], and I thought that that must have been so difficult to do. So, I don't really know him all that well, but I am proud of him.
"Yes, I wanted to sing that [Warrior] in honor of him. I didn't plan it, it just kind of popped into my head before the song and I thought I should share this because I was so inspired by him."
Before the interview ended, she had a message for her fans:
"Everybody, please come to my show tomorrow. I'm so excited to be here performing for all of you, and you'll be hearing the songs you heard there [in this episode] ("Give Your Heart A Break," "Heart Attack"), and many more."
Lovato first landed in Manila back 2013 for her 'Unbroken' Tour.
H/T: Rappler.com/