The President of the Republic of the Philippines, Pres. Benigno Simeon C. Aquino III, will try to evade his liability in the deadly Mamasapano incident according to one of the country's most popular senator, Sen. Miriam Defensor-Santiago. Pres. Aquino's refusal to apologize might be his way of evading prosecution after his Presidential term ends according to Sen. Santiago.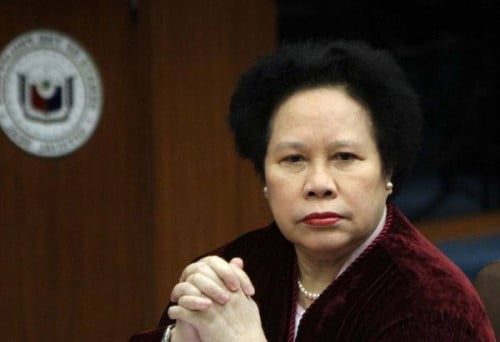 The flamboyant Senator Santiago believes the President fears an apology might amount to an admission that he is ultimately responsible for the bloodbath, where 44 elite members of the PNP-SAF died during the operation targeting international terrorist Marwan and his Filipino counterpart Basit Usman.
Aside from being responsible for the botched operations in Mamasapano, Pres. Aquino has come under heavy criticism for entrusting the January 25 police operation in Mamasapano, Maguindanao to a suspended police officer, resigned Police Chief Gen. Alan Purisima.
Sen. Santiago also stated that she was not surprised by the findings of the Moro Islamic Liberation Front (MILF) on the Mamasapano incident, particularly the conclusion of the Muslim separatist group who is now dealing with a peace process with the government that its forces could not be held liable for the bloodbath in Mamasapano.
According to the investigation of the MILF submitted to the Senate on Tuesday, the MILF blamed the PNP-SAF for failing to coordinate with them on the operation, and accused the cops of firing the first shot. Sen. Santiago got angry with the incredible claim of the MILF that they were not coddling the wanted terrorists.
The lawmaker was quoted as saying "It is ironic that they claim they had no knowledge of the two high-value targets the government was pursuing and yet those people were apparently at that particular time just a couple of kilometers away from the hideout of the MILF. Did they mean to say they had no knowledge of who were in the perimeters of their own land?" she said. She added further "That's an incredible claim." she said.
comment(s) for this post "Pres. Aquino Trying to Evade Liability in Mamasapano Incident According to Sen. Santiago". Tell us what you think abut this post by leaving your comments below.